A referral contest is a program designed to increase campaign contributions by having your funders refer their friends and people within their network to your project. As the campaign owner, your job is to create incentives for them to do so while also tracking the results.
For a great example of a successful referral contest, take a look at the one Geek Pulse ran: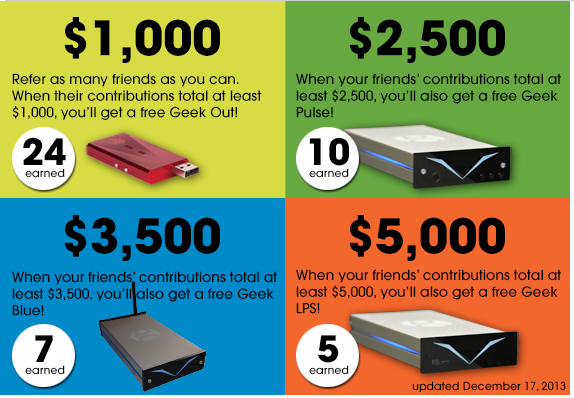 How it works if you run a campaign
A referral contest rewards the referrer who brings in the most additional contributors, the most overall funding, or however else you'd like to set up the contest.
Your campaign's Dashboard allows you to track referrals through the "Campaign Insights" tab. Its "Referrers" section shows the Indiegogo users who are directing traffic to your campaign in terms of the number of contributions and page visits your project receives. For a contributor to count as a referrer, they must promote your campaign with Indiegogo's share tools while logged into their Indiegogo account. This is important because otherwise, their unique ID won't be attached to any resulting contributions or visits.
When Funder A is logged into their account and uses Indiegogo's share tools to send a tweet, for example, the link in the tweet includes Funder A's unique ID. Then, when Funder B reads the tweet and clicks through the link to contribute, Funder A is recognized as helping bring in the amount contributed by Funder B.
What counts as a referral?
Our "Campaign Insights" tab tracks referrals on your campaign's Dashboard in terms of visits and contributions. It's up to you whether your contest will only count actual contributions, page visits, or both.
Establish a clear timeline specifying the start and end dates of the referral contest so there's no question about which referrals do and do not count.
When should I launch this content?
Campaigns tend to have the most success with referral contests when they're launched either around 30 days in or when 60% of the funding goal has been reached. This way, you already have a contributor base to activate and engage, and the contest can act as the final boost to get your campaign to goal.
For more information on running your campaign, take a look at the Indiegogo Playbook and the Indiegogo Field Guide!
What do I need to tell my contributors to make this work?
It's important that contributors know they must be logged into their Indiegogo account and use Indiegogo's share tools for our analytics to track their referral.
You can tell your contributors how to check their referrals through their Indiegogo profile.
If you are running a referral contest that rewards the top referrers, be sure to share your leaderboard with your contributors throughout the campaign.

Who counts as a referrer?
Anyone logged into an Indiegogo account can count as a referrer. We recommend you specify referrers also be contributors so that you already have their contact info for reward fulfillment once the contest ends.
Related Articles:
How To Participate In A Referral Contest
How To Access Your Campaign's Stats
How To Interpret Your Campaign's Stats