Campaign creation is currently available to individuals in the US, UK, Canada, Australia, Hong Kong (China campaigns may be eligible), Austria, Belgium, Denmark, Germany, Finland, France, Republic of Ireland, Italy, Luxembourg, Netherlands, Norway, Portugal, Singapore, Spain, Sweden, or Switzerland who meet the requirements below.
You are 18 years of age or older.
You are a legal resident or have a business entity registered in one of the above listed eligible countries.
You are creating campaign in your own name, or on behalf of a registered legal entity with which you are affiliated.
You have an address and bank account from the country in which you are creating a campaign.
If running your campaign as an individual, the linked bank account must belong to the person who verified their identity for your campaign.
What if I'm a foreign national, exchange student, or on a visa?
If you have a valid, government-issued ID for a country and a bank account located in that country, you may select that country as your location. If your country of legal residence is within the European Union/EEA, please refer to the section below: In What Currency Will My Campaign Raise Funds
What if I live in a British Crown Dependency, special municipality, or other outlying territory?
If you are based in a British Crown Dependency (Jersey, Guernsey, or Isle of Man), you must enter an address and bank account in the UK in order to create a campaign. Therefore, you should select the UK as both your country of legal residence and bank account country.
If you are located in Puerto Rico, you must enter a mainland US address and bank account in order to create a campaign. With the exception of Puerto Rico, businesses based in any other US territory or possession, or the US Virgin Islands, are not supported.
Should I choose individual, business, or nonprofit? And what do I enter for my tax ID?
You may choose either Individual, Business, or Nonprofit as the type of account for which to raise funds. If your campaign is raising funds for a business, you should choose Business. If you are raising funds for personal purposes, such as for independent creative works, you should choose Individual.
In the Tax ID/EIN field, you should enter the number given to you by your government when you registered your organization, business, etc.
Please note the funds recipient and tax ID can't be changed after you go live.
In which currency will my campaign raise funds?
| | |
| --- | --- |
| Country Selection | Currency |
| Australia | AUD |
| Canada | CAD or USD |
| Hong Kong | HKD |
| Austria, Belgium, Germany, Finland, France, Republic of Ireland, Italy, Luxembourg, Netherlands, Portugal, or Spain | EUR |
| United Kingdom | EUR or GBP |
| United States | USD |
| Switzerland | CHF or EUR |
| Denmark | DKK or EUR |
| Norway | NOK or EUR |
| Sweden | SEK or EUR |
| Singapore | SGD |
Note: When you receive funds to a non-US bank account, a transfer fee is incurred for each transfer/disbursement sent by Indiegogo, in addition to third-party processing fees. Learn more.
What can't I change after I launch my project?
After you launch your campaign, the following fields are locked and cannot be changed:
Currency

Country of legal residence

Bank account country

Business name

Business tax ID/EIN

Legal first and last name

Date of Birth
Please make sure you're careful about selecting those above fields before launching. If changes need to be made after your campaign is launched, you will need to close your campaign, refund all backers, and create a new campaign. You will be shown all campaign information before your campaign launches: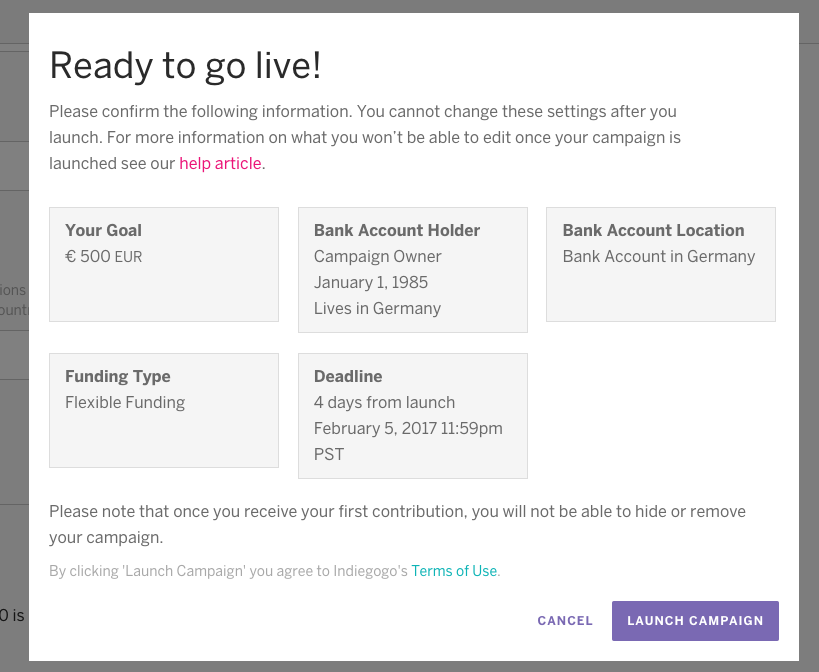 Find out more about what you can and can't edit after launching in our related article.
My country is not listed. What does this mean?
You may be unable to create a campaign because the country selection you've entered is not be supported by our payment processor, Stripe. Please refer to the list above for the countries we currently support.