When can I add my bank information?
Once you launch your campaign, you will be able to complete the bank account form on your Campaign Editor's Funding tab. We strongly recommend you complete your bank form as soon as possible. You have a maximum of 60 days from the date your campaign starts to complete your bank form. If you don't complete your bank form within 60 days, all funds will be refunded to your backers. We'll send regular reminder emails until your bank form is complete. Although you can fill out your bank form any time during the 60 day window, the best practice is to complete the form within 48 hours of launching.
What information will I need to provide? 
For individual bank accounts in one of the 15 supported locations, you'll need to provide: 
Funds recipient's street address

City

Postal code

State/Province (if applicable)

IBAN: International Bank Account Number
For business/nonprofit/other bank accounts in one of the 15 supported locations, you'll need to provide:
Business address (street, city, postal code, province)

Funds representative's address (street, city, postal code, province)

IBAN: International Bank Account Number
Please note: We recommend adding your bank and identity information within the first few days of funding. Stripe will occasionally prevent new transactions from coming into your campaign before the identity information has been completed.
What does it mean to be verified?
Once you've completed your bank form, Stripe (our payments processor) will use the information you've provided to verify the funds recipient's identity. If Stripe is able to verify your identity, you will see an "Identity Verified" button.
Please note Stripe is not verifying the accuracy of the bank information provided.
Once you identity has been verified by Stripe, none of the fields can be edited, except for the IBAN field.

If you need to edit the IBAN, please click the "Update Bank Account" link to reopen that field for editing. You'll also need resubmit your bank form to successfully update the IBAN.

What if I'm asked to upload a government ID?
On occasion, Stripe may ask for additional information to complete the verification step. You'll receive a notice to your campaign email to upload a government issued photo ID, such as a passport, in the event this happens. You might also notice your Secure Bank Form changed: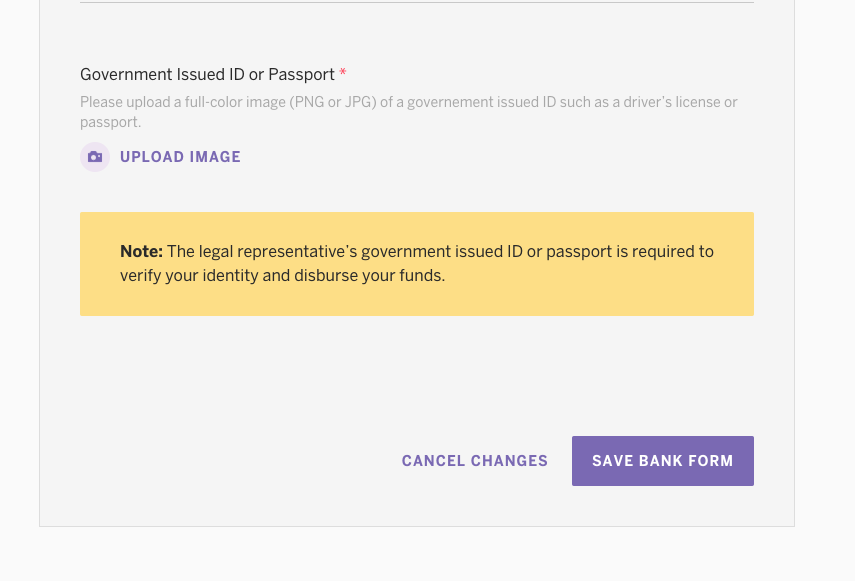 You'll need to upload a PNG or JPG file (max size of 6 GB) by clicking on the "Upload Image" button and selecting one from your computer. The government ID should clearly show the funds recipient's full legal name and date of birth, be in color, and be easily readable. It also acceptable to simply take a clear picture of your ID with your phone's camera.
Please also note that the name on the ID must match what you have entered in the legal first and last name fields. Stripe will reject IDs that don't match the funds recipient's name, which will cause additional delay in verification: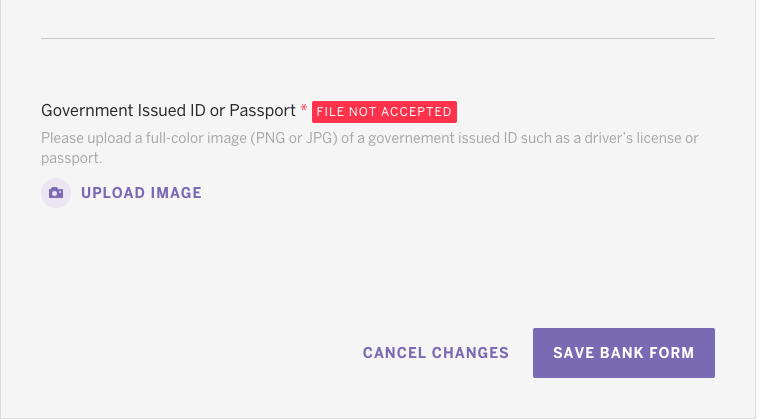 Why does Stripe need to verify me? Can I receive my funds without taking this step?
Stripe needs to verify an individual behind the organization before you can receive funds. Government regulations require any entity that sends funds to verify the legitimacy of the organization they're sending funds to. This requirement means Stripe will need to verify an individual representing the business in addition to verifying the EIN. This requirement is also part of their obligation to government agencies with regard to OFAC (Office of Foreign Assets Control) and anti-money laundering policies.
Can I change the name on my bank account?
Typically, you can't change the name on the bank account after you've gone live. However, if you notice a typo on this form, please contact our Support Team to see if they can assist you with correcting this: indiegogo.com/contact 
Please note that if Stripe has already verified your identity, we won't be able to make any changes.  
Does it cost anything to receive funds?
There is a small transfer fee charged per disbursement to your bank account. If you're raising funds in Euro, the cost per transfer is €25. You can read more about fees on Indiegogo in our related Help Center article, and please also keep in mind your bank may charge additional fees to receive the transfer. Also note that Indiegogo can only send funds if you have raised more than €100 after fees by the scheduled disbursement date.
How long will it take to receive funds?
Funds are typically disbursed within 15 business days of your campaign's end, or every four weeks when in InDemand. You'll receive a notice from us once funds have been sent to your bank account, and can usually expect them within three to five business days from then. Please read more about the disbursement schedule and process here.
What if my funds get rejected?
The Indiegogo team will notify you in the event that your bank rejects your funds for any reason. We'll send the campaign owner a notification with details about why funds were rejected, and what you can do to fix it.
What if I received funds in the past, but the bank account connected to my campaign is now closed?
If your project is in InDemand, and the account you were originally using has closed, please contact our support team directly for further assistance: indiegogo.com/contact