What is Indiegogo?
Indiegogo is a Crowdfunding platform where people around the world can raise funds for the things that matter to them, and in turn allows backers to help fund ideas they'd like to see come to life.
People all over the world use Indiegogo to raise money for all types of campaigns. Indiegogo was founded in 2008 as a global funding platform to help anybody, anywhere, raise money for anything. We provide a technology based platform that enables anybody with an idea (creative, cause related, or entrepreneurial) to create a funding campaign, offer perks to their contributors, and ultimately get their idea funded.
How Do Credit Card Charges Appear?
Transactions made to campaigns on Indiegogo will appear as being charged by 'Indiegogo' (sometimes listed as 'Stripe' depending on your credit card company). The charge does not list the name of the campaign or the campaign owner.
If the campaigner has added a custom billing statement description to their campaign, you'll see that appear on your statement. You should also see it on the Thank You page after backing the campaign.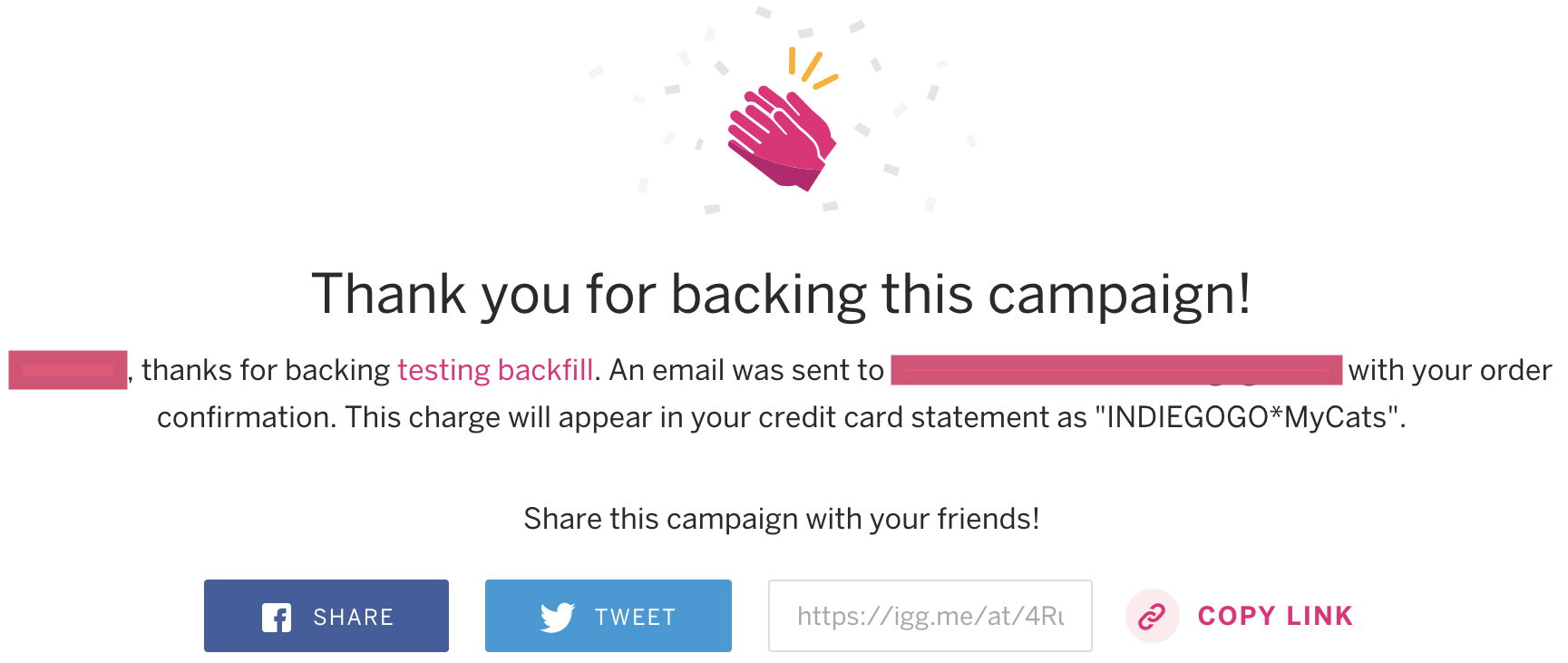 How Do I Locate Information About the Charge? 
There are two ways you can do this: 
Indiegogo sends contribution confirmation emails to the email address used to make the contribution, for every successful contribution. Please check your inbox, on the date of the charge, for your contribution confirmation email.
You can also view your Contribution Details on your Individual Profile on Indiegogo by following these steps:
Go to www.indiegogo.com and log in from the upper right corner
Enter the email address that you have used for your contribution (if necessary, you can set a password here and log in
Click your name in the top right corner
Click 'My Contributions' from the drop-down menu
Under the name of the perk, click where it says 'View Contribution Details'
We hope that by viewing information about the charge and the campaign contributed to, you'll remember making the contribution!
Still Don't Recognize the Charge from Indiegogo?
In many cases, members of a credit card holders household (spouses, children, etc.) may have made the contribution. Please confer with any family members or others who may have had access to your credit card, to see if they made the transaction. 
Can't locate the contribution on your Indiegogo account, don't recognize the campaign contributed to, or can't pin down a family member that may have made the contribution?
Please get in touch with our Customer Happiness Team and we would be happy to look up the charge for you. We'll need information about the transaction in order to be able to look up the charge. When contacting our team, please be sure to include the following information in your message: 
Billing Name (Name on the Credit Card used)
Date of Contribution
Contribution Amount
Last four digits of your credit card number
Any email addresses you may have used for this contribution
This information will help our team look up the charge in question.