Google Analytics 4 (GA4) can be used to provide valuable data about the performance of your campaign and behavior of its visitors. While Indiegogo offers campaigners access to a powerful Dashboard that provides vital analytics to their campaign, many find it useful to supplement this data with that of Google Analytics.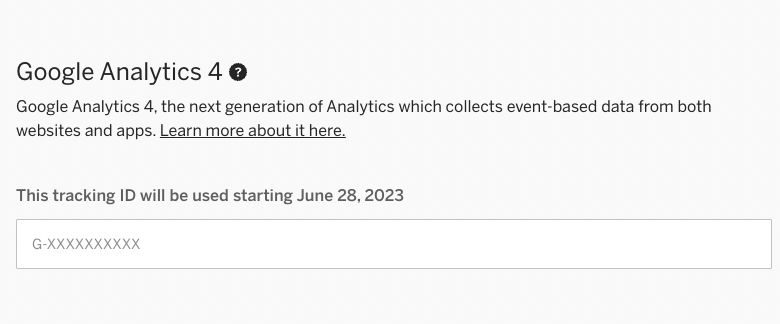 There is a wealth of information available on the web for those that would like to delve into more advanced uses - we'd recommend Google Analytics 4 Introduction Article page as a great place to start. Since GA4 is a third-party service, we are unable to provide support in interpreting the data that it collects.
Creating a Google Analytics 4 Property
If you are on an existing Universal Analytics property, Google has an option to migrate from Universal Analytics to GA4. We recommend using that process and following their Setup Assistant.
If you are creating a new GA4 property, we recommend following the instructions found in this article.
How to Add Your Measurement ID to Your Campaign
In order to input a Measurement ID on your campaign, you will need to create a data stream. Please follow the steps in this article to set up a data stream. Once the data stream has been created, you will see a Measurement ID that starts with the letter G. Please copy that measurement ID into your Campaign Editor > Extras > Google Analytics section.
UTM Tracking
UTM tracking codes allow you to create custom URLs that can be used to track custom data such as a source, medium and campaign name using GA4. This can be used to show you how visitors ended up at your campaign. They are often used in conjunction with running digital marketing campaigns.
We recommend using Google's URL Builder to create your custom URLs. You will end up with a URL that has additional parameters appended to it. When people use this URL to visit your campaign, those additional parameters will be tracked in your Google Analytics account.
To learn more about UTM tracking, we recommend reading this article.
Pre-Launch Page Tracking
Below are the events sent to your GA4 for the pre-launch page.
When a user lands on the pre-launch page – eventCategory: "pre_launch_page", eventAction: "pre_launch_page_load_show", eventLabel: "a".

When a user signs up on the pre-launch page – eventCategory: "pre_launch_page", eventAction: "pre_launch_page_click_signup", eventLabel: "a"
Ecommerce Tracking
Ecommerce tracking should automatically populate with data once you have set up your GA4 account and added your measurement ID on Indiegogo.
Accuracy of Analytics
It's important to keep in mind that although quite powerful, Google Analytics can only provide you with data on traffic that it sees. Many privacy conscious users have tools in their browsers that specifically block this kind of tracking. In addition, these tracking events occur on specific pages - if a visitor does not reach a certain page their traffic data will not be collected. If a user were to end their session before being redirected to Indiegogo, data on that conversion would be lost in Google Analytics. Consider these cases when you're comparing data between your Indiegogo Dashboard and Google Analytics.

You should now be armed with the basics to start making use of GA4 to provide more insights to your campaign and help push your digital marketing strategies to success!