Now that your campaign is set up, you've got your campaign strategy in place, and your team is ready to go, it's time to launch your campaign! You'll need to click "Launch Campaign," within your campaign creation flow, to make it visible to the public.
Here are some simple steps to follow to launch your campaign:
Log in to your Indiegogo account and click '[Your Name],' located above the search bar
Select 'My Campaigns' from the drop-down menu
Locate the campaign you'd like to launch and click "Edit Campaign," from the 'Actions' Drop-Down menu. You'll be taken to your Campaign Editor.
From your Campaign Editor, you'll be able to launch by clicking the "Review & Launch" button.

If any required fields are missing you'll see an error message which outlines the tab that has missing info. Please go to the corresponding tab and fill out the missing fields.

If you've completed all the required fields, you'll be taken to a final "Ready To Go Live!" confirmation. This will allow you to confirm key areas that you will not be able to change once you are live. If everything looks good to go, click the "Launch Campaign" button.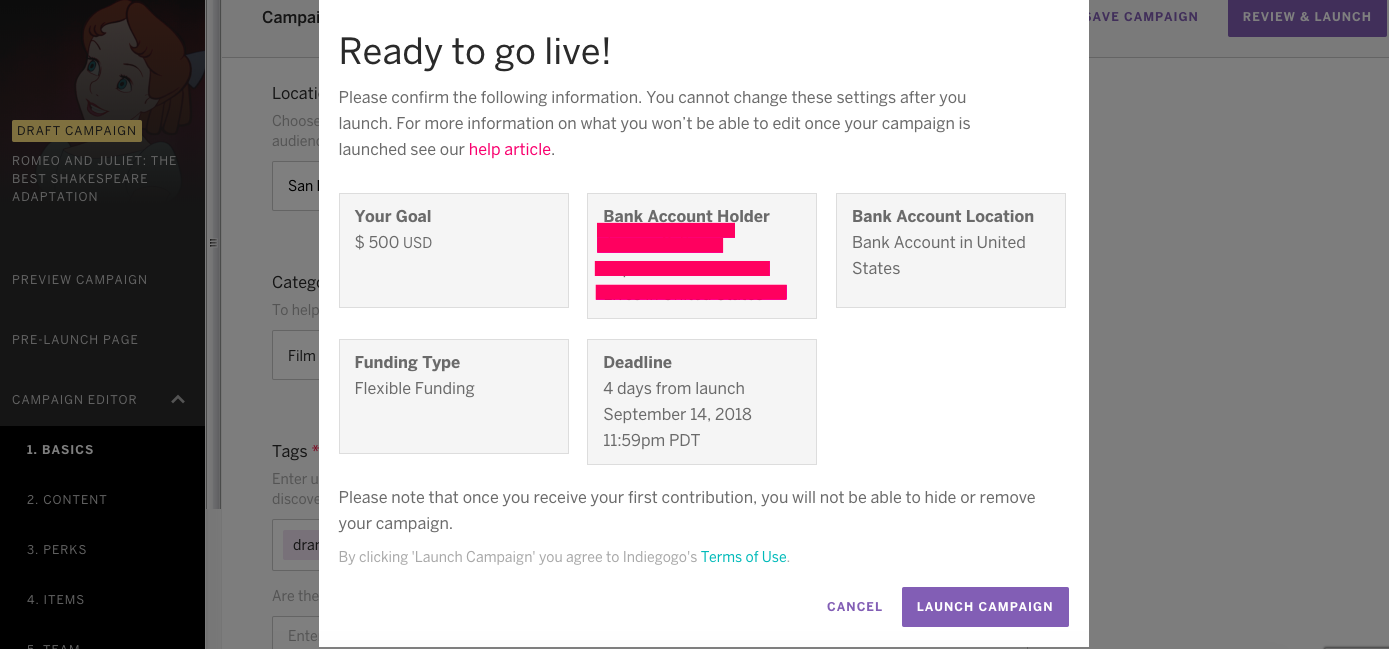 Important Notes:
If your campaign had an

Indiegogo Pre-Launch Page

, an email will be sent to all your page subscribers letting them know that your campaign is live five minutes after your click the "Launch Campaign" button.

Once you click the final "Launch Campaign" button, your campaign will immediately be live and can be accessed by its URL.
Any preview links you've sent out will automatically redirect to your live page once you launch.
There are many things that cannot be edited after a campaign has launched. Please ensure you are confident in you campaign set up and details before you launch your campaign.
Once a campaign is live:


Campaigners cannot pause, suspend, or remove their campaigns.
Campaigns remain live on Indiegogo and accepting contributions through the deadline, and will remain on the platform indefinitely- even after it has reached the deadline or has ended.