All campaigns receiving contributions via direct credit card must have a bank account in order to receive funds, unless your campaign is raising funds on behalf of a 501(c)(3) nonprofit institution in the United States.
You will be able to provide your bank information on your campaign's Funding tab as soon as you've received your first campaign contribution. Your bank form will not be available before you receive your first contribution.
Login to your Indiegogo account and visit your campaign page
Click 'Campaign Editor' on the sidebar of your campaign page
Click the 'Funding' tab in the sidebar
Scroll to the 'Credit Card Payment Setup'
Click on the 'Secure Bank Form'
Provide information about your bank.
Please Note: If you are raising money for someone else, we ask that you enter their bank account information or add them to your campaign team as an editor so they have access to enter their bank account information. This way we can ensure that the funds raised can be sent to them directly.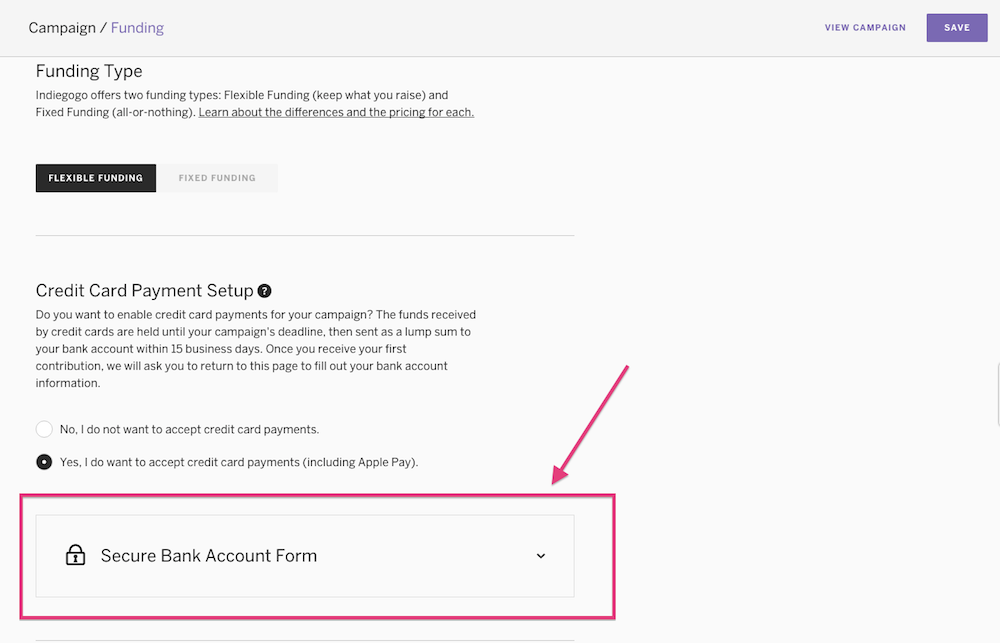 What Type of Bank Account Can I Use?
You can use a personal or business checking account.
What Bank Account Information Do I Need to Provide?
If your campaign is raising funds in USD ($), requested bank information depends on what country your bank account is located in:
United States:
Fund Recipient's Name
Fund Recipient's Date of Birth
Fund Recipient's SSN
Address
Account number
Routing number
(If applicable) Business Name
(If applicable) Business EIN
Non-U.S.:
Name on account
Account number or IBAN (for Europe)
Account address
SWIFT code (also known as BIC)
Bank name
Bank city
Transit code (Canada only)
BSB (Australia only)
Intermediary bank information (if applicable)
Bank to bank instructions (if applicable)
Your phone number (so that we can contact you if there is a problem)
If your campaign is raising funds in CAD (C$), the following bank information is required for your Canadian bank account:
Account holder information:
Name on account
Address (Country, Street address, City, State/Province, Postal Code)
Your phone number
Bank information:
Bank Name
Account Number
Routing Transit Number
Please note that credit card contributions in CAD can only be transferred to a Canadian bank account. If you do not have a bank account located in Canada, you will need to disable the direct credit card payment option on your campaign.
Account Number / IBAN
Your bank account number is the first number on the bottom of a check. Alternatively, it can usually be found on your paper bank statements. For European accounts, you will be required to provide an IBAN, or International Bank Account Number. The IBAN is the same as your bank account number, but with a few extra numbers at the beginning.
We will ask you to enter your bank account number twice, to help catch any errors.
Routing Number (or ABA)
Your routing number is a 9-digit code that identifies your bank. Your routing number must start with two digits in the following range:
00 - 12, 21- 32, 61 - 72, 80
We will not be able to disburse funds if the first two digits of your routing number do not fall within that range. If you are unsure of which routing number to use, you can look it up here, or call your bank. You can usually find your routing number on the bottom of a check:

SWIFT code
A SWIFT code is an 8- or 11-digit alphanumeric code that is used to identify a bank in an international wire transfer. If you're not sure of your SWIFT code, call your bank. Every bank has one!
If your SWIFT code ends in -XXX, please remove these last three letters when you save your bank information on your "Get Funded" tab.
Transit code (Canada only)
Transit Codes are required for bank accounts in Canada and can be entered in the format XXXYYYYY, where XXX is the Institution Number, and YYYYY is the Branch Number. If you don't know your bank's Transit code, contact them directly.