All campaigns must have a bank account in order to receive funds.
Important Things to Know About Bank Account Set Up:
You will be required to complete the on-boarding process via the 'Verify Your ID' button in addition to the bank form found on the Funding tab of your campaign. If the bank form is not completed, you will not be able to launch your campaign.
If you are raising money for someone else, we ask that you enter their bank account information or add them to your campaign team as an editor so they have access to enter their bank account information. This way we can ensure that the funds raised can be sent to them directly.
Indiegogo is not able to verify the accuracy of the bank information you provide. To ensure accuracy of the information you provide us, please

confirm the relevant details with your bank

, before entering your Bank account information into the Bank Form on your campaign.
Be sure to select the correct country option for both your bank country and where you legally reside when first creating your campaign. These fields cannot be changed, see here for more information.
Once you select your funding type (Individual, Business or Nonprofit) this field cannot be updated.
Where to Enter your Bank Information?
You will be able to provide your bank information on your campaign editor's Funding tab as soon as you create your campaign.
Login to your Indiegogo account and visit your campaign page
Click 'Campaign Editor' on the sidebar of your campaign page
Click the 'Funding' tab in the sidebar
Submit account details down in the section titled 'Bank 'Information'
Click the 'Save Bank Information' button
Please note: This example below is for a campaign raising funds in USD. The selections made during campaign creation may generate a different format for your bank form.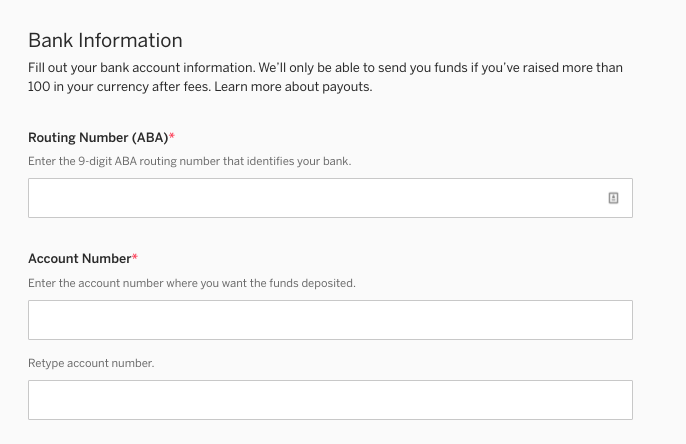 What Type of Bank Account Can I Use?
You can use a personal or business checking account.
Important notes:
Please ensure you discuss receiving funds from Indiegogo with your bank to ensure your account is set up to receive them. Indiegogo is not responsible for customers' inability to receive funds due to limitations in place by their bank.
Indiegogo is not able to disburse funds to virtual bank accounts or third-party money sending services such as PayPal, Payoneer, Venmo etc.
What Bank Account Information Do I Need to Provide?
The bank information you need to provide depends on the bank account country you selected when creating your campaign.
United States:
Account Number
Routing Number
Australia:
BSB Number
Account Number
Austria, Belgium, Denmark, Germany, Finland, France, Republic of Ireland, Italy, Luxembourg, Netherlands, Norway, Portugal, Spain, Sweden, Switzerland, or United Kingdom:
Canada:
Branch Transit Number
Financial Institution Number
Account Number
Hong Kong:
Clearing Code
Branch Code
Account Number
Japan:
Bank Name
Bank Code
Branch Code
Account Number
Bank Account Holder Name
United Kingdom (currency GBP):
Singapore:
Bank Code
Branch Code
Account Number
Account Number / IBAN
Your bank account number is at the bottom of a check. Alternatively, it can usually be found on your paper bank statements. For bank accounts in some locations, you will be required to provide an IBAN, or International Bank Account Number. The IBAN is the same as your bank account number, but with a few extra numbers at the beginning. Please contact your bank if you need help with your account number and/or IBAN.
We will ask you to enter your bank account number twice, to help catch any errors.
Routing Number (or ABA)
Your electronic routing number is a 9-digit code that identifies your bank. Please note, we require your electronic routing number, not your paper or wire routing number. Your routing number must start with two digits in the following range:
00 - 12, 21- 32, 61 - 72, 80
We will not be able to disburse funds if the first two digits of your routing number do not fall within that range. If you are unsure of which routing number to use, please contact your bank. You can usually find your routing number on the bottom of a check.