Running a hardware campaign on Indiegogo is a great way to present your new product to an engaged, global audience for feedback, funding, and fine-tuning. Think of it like the entire entrepreneurial process, bottled. We put together these tips to help gear your campaign for success!
Leverage a Soft Launch
Consider soft launching your campaign. Reach out to your close contacts and lock down 30% of your funding goal before you officially launch your campaign. This way, when you contact your wider audience – and the media – they'll see your campaign already has momentum. This is especially important with hardware campaigns, as strangers may doubt your product until they see that others already trust you. It's all about validation!
Show Use Cases
While you may be tempted to show off the amazing, complex technology behind your product, remember that most people are more interested in how they'll relate to it. Be sure to highlight use cases and provide concrete examples of how the product will make their lives better. Clearly state the problem your product solves, then show how.
See how the 'Flic: The Wireless Smart Button' campaign clearly demonstrates their use case: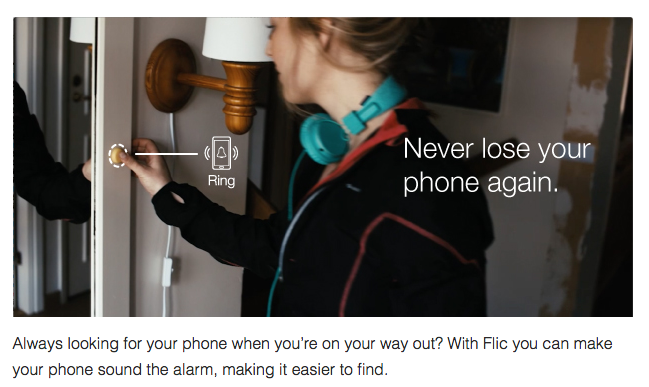 As the above image from the Flic campaign shows, Use Cases should demonstrate three key things to potential contributors:
1. Use clear, uncluttered, images of someone using their product- contributors can identify with images and see themselves using your product.
2. Have a short, descriptive title of the use case. - Here Flic has placed the title "Never lose your phone again." in the image, but titles can be outside of the image as well.
3. A description of how customers can use the product in this specific situation.
Prepare For Success
Know what you're looking for beyond funding and find out how you'll get it before you launch your campaign. Questions you should ask include: can you scale if your campaign goes viral? Is there a limit on the quantity of a specific perk you're offering? Are you aiming to produce a one-off product, or to start a business? Do you want to attract the attention of distributors, or is the whole point to gauge market interest and solicit user feedback? The more you ask, the better prepared you'll be.
Know How To Ship Everywhere
Indiegogo is an international platform, and if you have a hit product, people from around the globe will want it. Find out what it costs to ship internationally, look into customs issues, and know what to charge for global shipping. Be sure to add shipping for all countries you plan to ship to, for each perk.
Prepare To Communicate
How you manage your contributors' questions and concerns will influence your public perception. Include contact information on your campaign page and have someone on your team ready to answer inquiries, manage problems, and ensure your contributors are happy with your product. This is especially important if your campaign ends and there are delays in the production process. Keeping your contributors happy and informed goes a long way toward building brand loyalty.
Be sure to:
Post Updates throughout your campaign, and after it ends
Post campaign- be sure you post progress updates on your product development progress
Reply to all comments and questions posed by your contributor community
See more communication Best Practices.
Be Open To Change
Even when a product is well designed, your audience may want something different. Your Indiegogo campaign is a great opportunity to take into account a wide and invested audience's feedback. Real-time market testing is one of the primary benefits to launching your product through Indiegogo. Be open to making changes to your product, and think about what questions you'd like to ask the crowd.
Furthermore, when you involve your audience in this way, they feel like your project is theirs too. They aren't just contributing – they're helping you create something new! This type of emotional connection is an extremely powerful incentive for sharing your story.
Have a Prototype
A prototype is not required to use Indiegogo; however, it is highly encouraged. Many contributors will be skeptical of your idea and with no prototype to back up your claims and demonstrate your commitment to the product, contributors may not trust your ability to complete the project. Be sure you showcase your prototype in your campaign video, as this can help build trust with your contributors.
The press will often want to use a product before they write about it. You may lose potential media coverage if you don't have a prototype available for review.
Be sure to clearly outline, on your campaign, what stage of product development you are in and display a clearly researched timeline for each stage of future development up through when the product ships.
Choose The Right Funding Option
Many product campaigns choose fixed funding out of necessity: If you're unable to move your project forward or fulfill your perks without the full amount raised, you should choose fixed funding. However, if you're able to fulfill perks without meeting a specific funding goal or have access to other sources of funds outside of Indiegogo, you may consider flexible funding. Learn more about the difference between fixed and flexible funding.
Use Graphics
Campaigns that fund cutting-edge technology will likely encounter skepticism. Remember that if you've made something unique, you may need to spend extra time reassuring funders that your product is real and works as described. Graphics are a great tool for explaining your product in simple terms.
Be Transparent
Hardware is hard, as the saying goes, and projects that launch an Indiegogo campaign can be at any point in the the manufacturing process. Be as transparent as possible about what stage your project is at and how your new technology actually works. Link to outside studies and press spots that support your claims, and include a section in your pitch text that features photos and descriptions of your team. Make every aspect of your story as tangible as possible.
More great resources for Hardware and Tech Campaigns: