Perks are incentives offered to contributors in exchange for their support. We've found that campaigns offering perks raise 143% more money than those that do not. Perks help you attract a larger audience, make people feel more valued for their contributions, and help you spread the word about your campaign.
Set a Featured Perk
You can choose to set a Featured Perk for your campaign, on the Perks tab of your Campaign Editor. This provides you with a way to highlight your campaign's most popular Perk, or the Perk that is the main focus of the campaign.
The Perk that is selected as the Featured Perk will have a Featured Perk label and will be listed at the top of your campaign's Perk list on your campaign page. You can change which perk you have listed as the Featured Perk, at any time.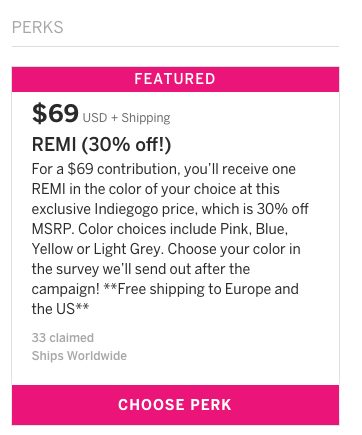 Consider different kinds of perks
Material: The product you're crowdfunding to manufacture, or other physical items like t-shirts.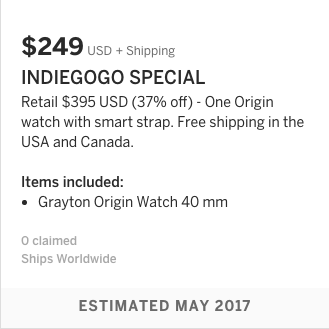 Personal: An acknowledgement for contributing, a social media conversation, a handwritten thank-you note or another kind of interaction between you and a contributor.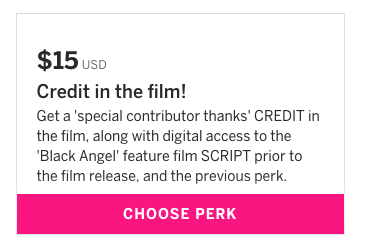 Experiential: A unique experience, like tickets to the premiere of your film or an hour with you and your band in the recording studio.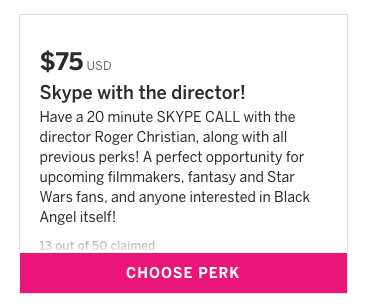 Be creative and frame your perks in a way that will appeal to your audience. Look around at other campaigns for inspiration and great perk ideas. Strategically price your perks.
$25 perks are the most frequently claimed.
$100 perks raise the most money and often make up nearly 30% of total funds raised.
Do the math and make sure you're not losing money. (Factor in shipping costs, manufacturing, and time.)
Include images of your perks in your Pitch Text
Your contributors will want to see what they'll receive for supporting you. Be sure to use high-quality images to showcase your perks in the best light!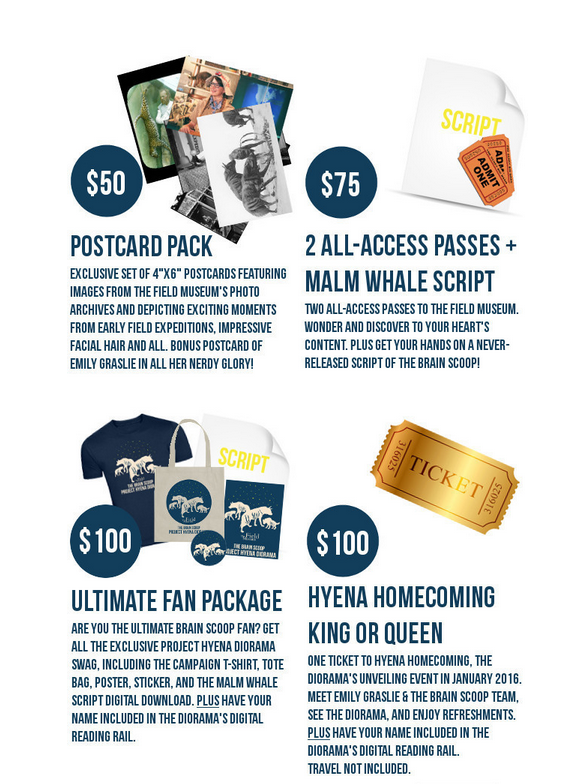 Consider creating realistic perks that you think you are able to fulfill.
If 10 people choose the same perk, fulfilling those 10 orders might be easy. But what about fulfilling 1,000 of that same perk? Think of the challenges of scaling, and cap the number of contributions for that perk with the number that feels achievable.
Amplifier. Your Perk Fulfillment Partner.
This full-service production and fulfillment company and Indiegogo partner enables campaign owners to easily produce, package, and ship perks such as shirts, hats, mugs, stickers, and more. Based in Austin, TX, Amplifier serves as a one-stop shop for merchandise production and fulfillment.
Any campaign that uses Amplifier receives a 10% discount on Amplifier fees, as well as personalized support from Amplifier's customer service team, which includes coaching, a best practices toolkit, and shipment tracking tools.
PayPal restrictions around perks.
Users who have a PayPal account from the APAC region should review our article on international PayPal restrictions first.
Remember to make sure that your perks are not Prohibited, and that they abide by our Terms of Use