Keeping your contributors in the know is one of the best ways to boost your campaign's success. You'll help instill trust, grow your community (updating provides even more opportunities for contributors to share your campaign, creating new fans), and in turn, increase funds.
Campaigners who provide updates once every five days tend to raise 218% more than those who update less often.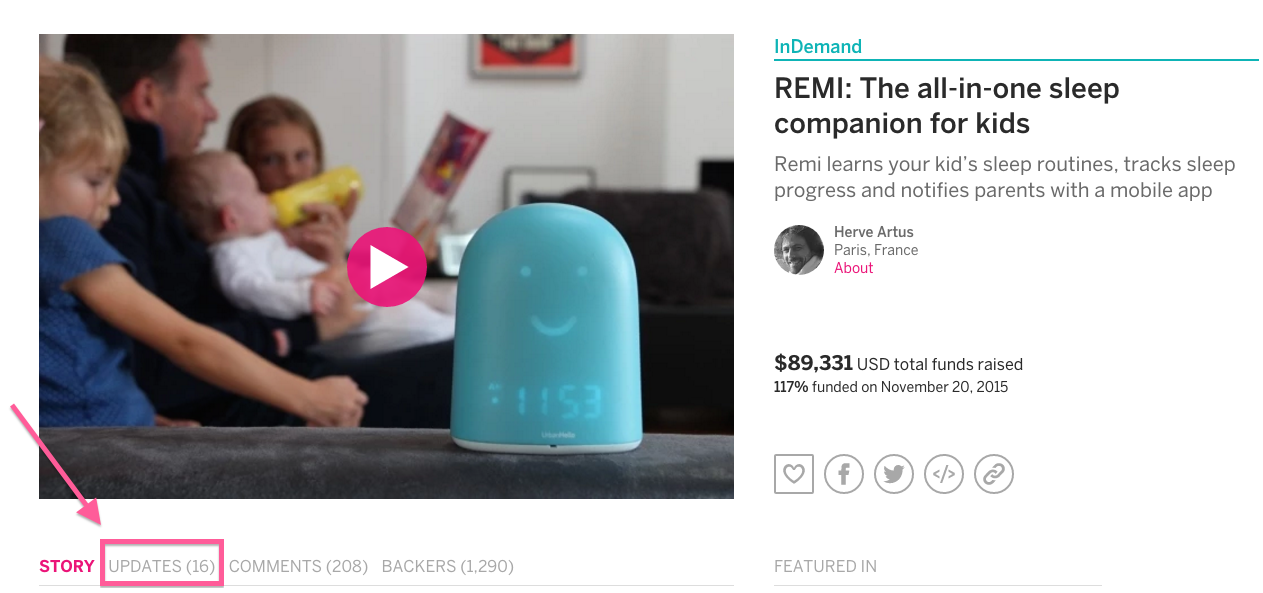 Why You Should Use the 'Updates' Tab:
Posts run with your campaign, much like a blog, providing room to tell your story. Your contributors can then be more aware of how their funds are used.
The Indiegogo logo on your campaign page adds an extra layer of credibility.
Updates remain visible to all Indiegogo users, informing those beyond your immediate social network.
Updating your campaign boosts your gogofactor our proprietary algorithm that allows us to promote campaigns on Indiegogo's channels, including our blog, newsletter, and homepage.
Best of all, updating your campaign is easy.
How to Navigate to the Updates Tab:
It's easy to get to the Updates Tab, and post an update that will be emailed out to all your followers. 
Ensure you are logged in to the account of the campaigner or a team member with editing permissions, and visit your campaign page. Once on your campaign page, scroll past you main Campaign image/video, and Campaign Overview (if applicable), and you'll see four tabs: "Story", "Updates", "Comments", and "Backers" Click the "Updates" Tab, then enter your Update into the Update Editor.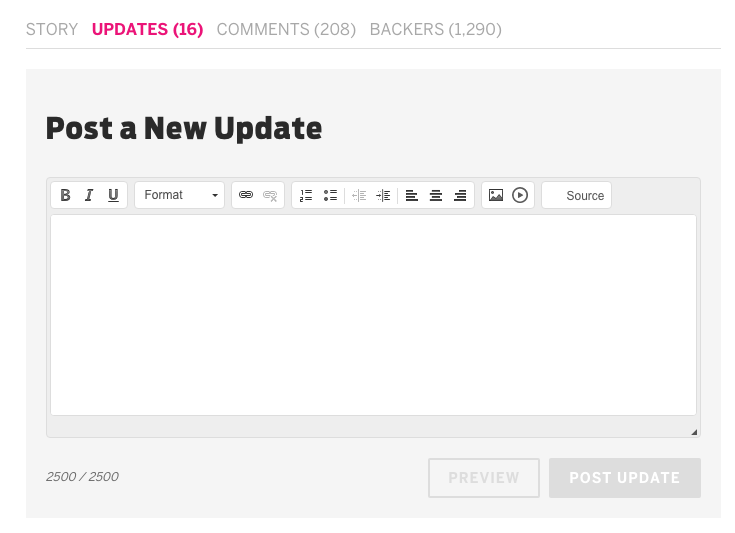 When you are done with your Update, you will have two options: "Preview" or "Post Update"

"Preview" allows you to send a test email to yourself or your campaign team to see how the email will appear. This will allow you to make any last minute edits or improvements before you post. Remember, once the Update is posted you will not be able to edit it. 

When you are satisfied with your Update and ready to have it be sent out to all your followers, click the "Post Update" button

The "Post Update" and "Preview" options will turn Pink when they are clickable.
If you've added content and these options are still greyed out, this is typically because you haven't added characters to your update and are trying to post only an image or video(s). Note that Updates must have at least 2 characters. So if you plan to post an image or video alone, be sure to type in a description of your video or image before posting. 
Connect with Your Community
Your first two updates within a 12-hour span are sent to your followers within minutes. If you post more than two updates within 12 hours, the rest of your messages are aggregated along with a link back to your campaign and are sent to your followers in one batch. Such measures keep your followers' inboxes happy, so everyone can feel good. Once 12 hours have passed, you can again send two updates to be received within minutes, and more to be aggregated, if you wish.
5 Keys for Excellent Updates:
Click the update tab, and post something at least once every five days—but be mindful of your contributors' inboxes. Create an update when there is something new related to your campaign.
Share your latest campaign achievements. Your contributors can feel good knowing they've been part of these milestones, and if they share your campaign, can encourage others to contribute, too.
Include videos and photos with your updates. It can help your contributors feel more closely involved.
If there's a delay or change concerning perks fulfillment, let your contributors know.
When you click the Indiegogo tab on your campaign page and create a message, anyone who's contributed to, favorited, or commented on your campaign will receive your update.
Suggested Schedule
Create one update each week geared toward forging a deeper connection with your followers. Share news, personal anecdotes and behind-the-scenes photos and videos.
Create a second weekly update encouraging contributors to share your campaign, to raise more funds. You can, for example, share news of stretch goals, and/or personally thank your community for their support.
Related Resources: