Having a well-written story is the first step in planning a successful campaign. But just as important is using images and videos to support your pitch. Here are a few tips on how to use images and video effectively.
Best Practices: Do and Don'ts
Do use images in between sections of your pitch. Illustrating parts of your story will not only help your contributors connect with what you have to say, you'll hold their attention better by breaking up big blocks of text.
Do include images of your perks. Your contributors will want to see what they'll receive for supporting you. Be sure to use high-quality images to showcase your perks in the best light! Here's a sample from the Field Museum's Project Hyena Diorama campaign: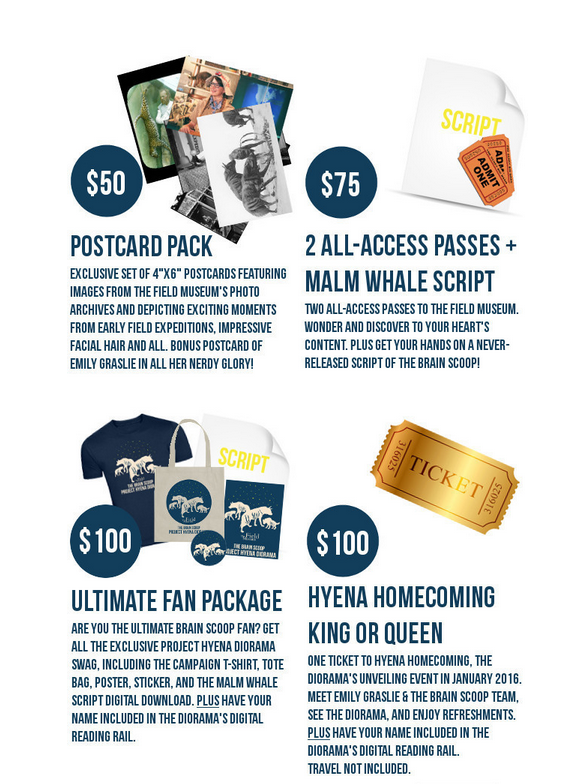 Do add visualizations of why you need your goal amount, and include a break-down of your costs. Knowing why you need the money and what you plan to do with it are always helpful for contributors to get a better sense of the project, as well as your ability as a campaign owner to think the project through to completion.
Do be thoughtful about the images and videos you choose. You want your visual aids to make sense for the type of your campaign you're running. Both style and content should support your campaign story. If you're launching a new product, include pictures of your prototype. 
Don't use too many images and videos. Although using images might seem like a way to make your pitch more visually interesting, using too many of them can be distracting and take attention away from your story. The visual media you choose should complement your written text, but not overwhelm it.
Don't use long videos. Even though you might have a series of great videos, if they're more than five minutes long, most contributors won't watch the whole thing. 
To use your videos effectively and efficiently, your main campaign video should be no between two and four minutes, and any videos in your pitch no longer than 90 seconds. 
Don't use content you don't own. This includes music in your videos. If you're looking for a free resource, try YouTube's Audio Library of free music or Flickr's Creative Commons photo database.