As long as a contribution is eligible for a refund on our platform, you can initiate the refund of a contribution to your campaign. 
How to Issue a Refund to a Backer, on Indiegogo
1. Open your campaign dashboard and click on the Perks Claimed & Donations tab. This will bring up a list of contributions to your campaign.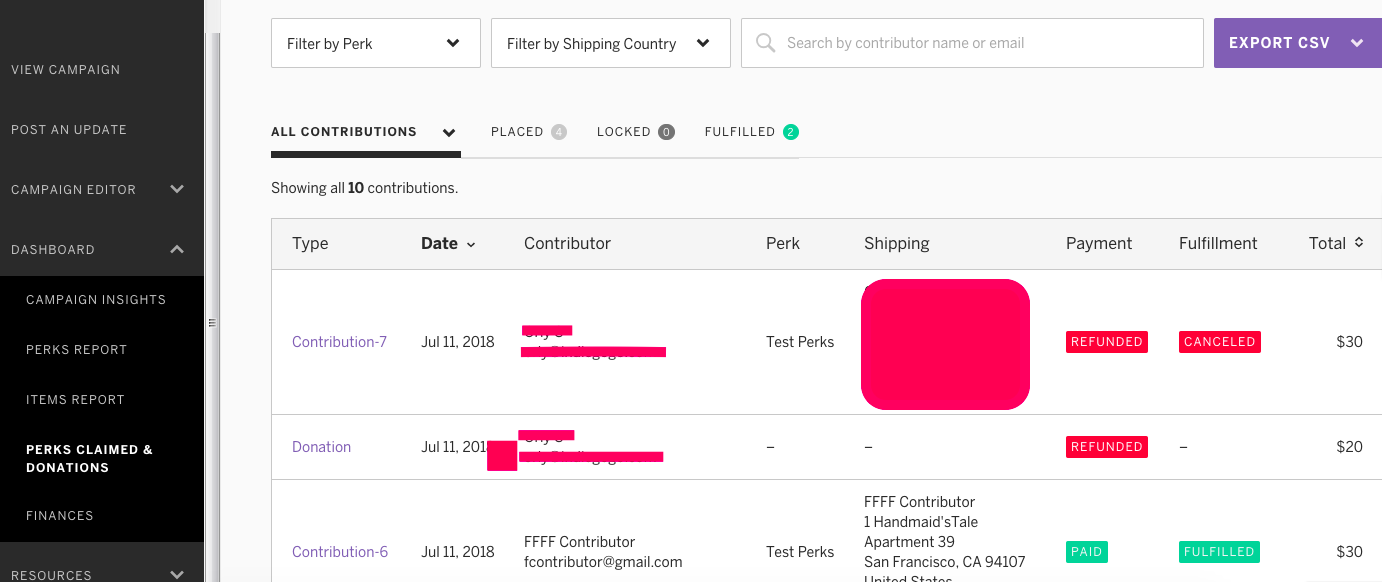 2. Click on the link for the contribution or donation you would like to refund. This will bring you to the Contribution Details page.
3. Click the Refund Contribution button on that page to process the refund, and confirm. The Backer will be notified by email that their contribution has been refunded. If there is no refund button, the contribution is not eligible for a refund on Indiegogo
Please note: It may take ~3-5 business days for the Backer to see the amount as a credit on their credit card statement.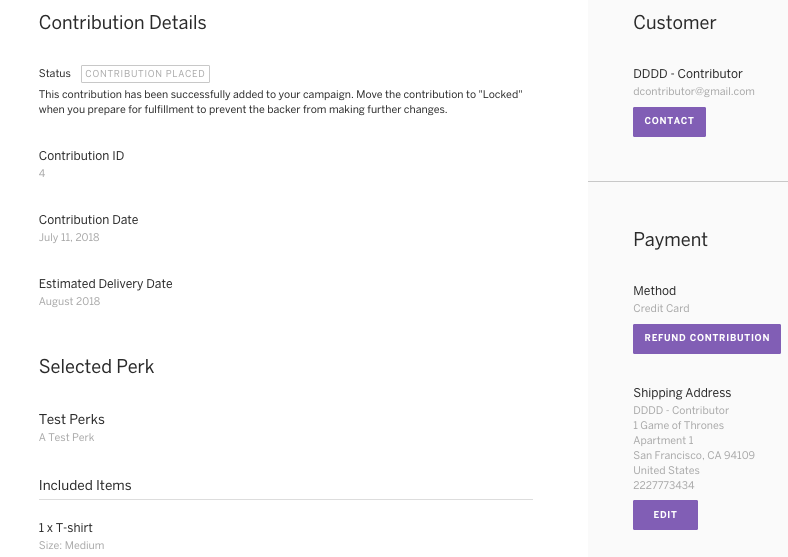 Contribution 
States and Refunds
It's very important to keep your Contribution States up to date, on Indiegogo. If you want to ensure that backers cannot issue refunds for contributions you have fulfilled, you MUST ensure you use these Contribution Management tools. 
By moving shipped contributions to the "Fulfilled" state on Indiegogo, this notes to the backer that you have fulfilled their contribution. Furthermore, these contribution states are what the portion of Indiegogo's refund policy that states "the Perk associated with the contribution has been fulfilled," is based on. If a contribution is moved to a "Fulfilled" state on Indiegogo, the Backer will not be able to process a refund on Indiegogo. 
If a contribution falls within our refund policy and you do not mark it as "Fulfilled" on Indiegogo, the backer will be able to process a refund on Indiegogo, even if you've shipped the perk.
Bottom Line: Keeping accurate contribution states will ensure that backers are only able to process refunds for unfulfilled contributions.
How to Handle Refunds for Contributions that are Not Eligible for a Refund on Indiegogo
If the funds for your campaign have already been sent to you, you will not be able to process a refund on Indiegogo. 
This means that it cannot be refunded electronically via Indiegogo back to the original credit card used. Instead, you'll need to work with the backer to issue a refund off of the Indiegogo platform. 

We find that for many campaigners and backers, PayPal seems to be a great option for issuing refunds. But other online payment methods, or refunds via check/cheque may be a better option for some customers.

In all cases, w

e recommend reaching out to your contributor when issuing refunds. You'll need to work with them on the best method for you to send and for them to receive their refund off our platform, as well as collect their payment information, such as: PayPal account email address, the name to whom the check/cheque should be made out to, the mailing address to send the check/cheque etc.  

In cases where you need to refund a group of backers, or all backers, you will need to ensure you clearly notify all affected backers (both through an update posted to your campaign and through a direct email to backers) of the refunds. Ensure you are transparent about the reason for the refund, the method and timeline that the backer can expect to receive the refund, and a point of contact where the backers can reach you with any questions. 
In the event that you have refunded a backer off of our platform, we recommend you mark that contribution as refunded on your dashboard.