We track different sources of traffic to your campaign page. There are many different ways that backers can find your campaign page (searching on google.com, clicking on a link in a press article, opening an email you send, clicking through from a friend's facebook post, etc.) When looking at your campaign dashboard, any source that's highlighted in pink was driven from Indiegogo, and any source that's not highlighted was driven from outside Indiegogo.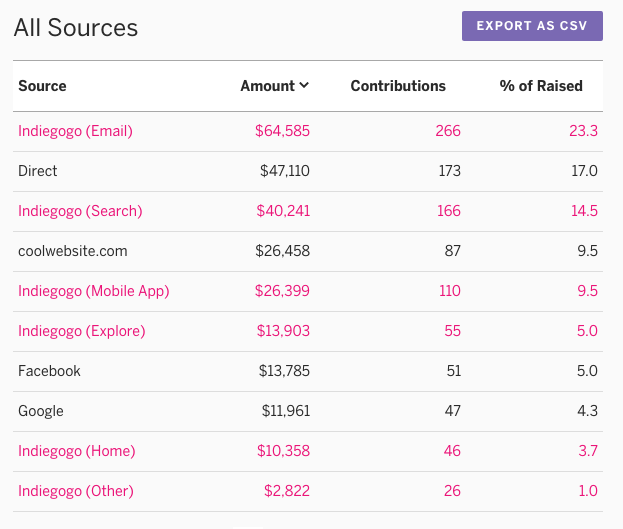 How do backers find a campaign on Indiegogo?
There are many ways that people can find a campaign and there are three main ways backers find campaigns through Indiegogo: Our website, email program, and promotional channels.
Indiegogo Website
Campaigns can appear in many different places throughout the Indiegogo website, including the homepage, explore page, search page, and more.

 
Indiegogo Email
Campaigns can appear in both transactional emails (sent automatically when users take a certain action on the site) and promotional emails (weekly newsletters that feature popular campaigns).

 
Indiegogo Promotional Channels
Campaigns can receive a boost from Indiegogo marketing by being highlighted on our blog and shared across our social channels (Facebook, Twitter, YouTube, Instagram, etc),

In addition, we also occasionally promote campaigns via digital advertising (Facebook Ads).
How can more backers find my campaign on Indiegogo?
While there's no specific recipe, spikes in campaign activity can push your campaign into certain trending areas of our website and emails. So, catalyze your network by making a specific ask of them: whether that's sharing your campaign on their social networks or sending emails to friends of friends. And remember - it's all about community! How active your supporters are is just as important as how much you raise.
.