Selecting a Product Stage helps backers understand how far along your Technology and Innovation product is in the development cycle before they contribute. If you're funding the creation of a hardware product (if it has a power supply), Product Stages allow you to select your current stage of development and display it on your campaign page. Product Stages do not apply to films, apps, creative media or similar categories.
Please note that Indiegogo retains the right to rescind a Product Stage badge at any time.
Who should select a Product Stage?
If you have a campaign that falls under the Technology and Innovation category and it is a hardware product, then yes! You can select your Product Stage on the Basics tab of your Campaign Editor.
How do I know I know if my product is hardware?
If your product has a power supply, it is a hardware product and you should select a Product Stage. Here are a few examples: Electric Skateboards, Speakers, Lamps, Electric Bikes.
Here are a few products that do not need a Product Stage:
Non-electric homeware (Pillows, Chairs, Hammocks, etc.)
Clothing (Socks, Jackets, etc.)
Fashion accessories (Sunglasses, Backpacks, etc.)
Food
Games
What do the different Product Stages mean?
The Product Stage categories mean the following:
Concept: You have developed a concept, but haven't yet created a prototype. No additional information is required, however your project must meet Indiegogo's Terms of Use.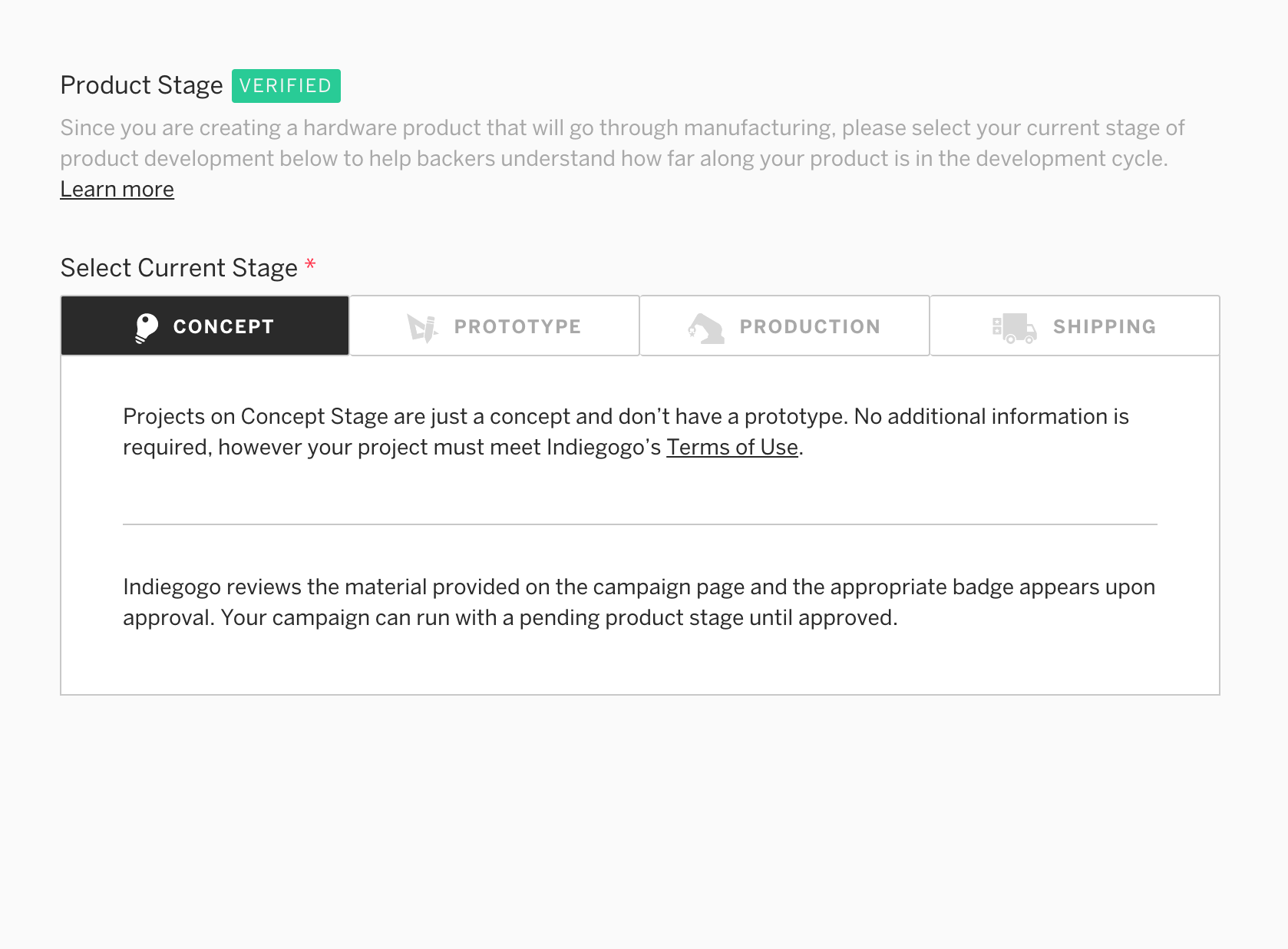 Prototype: You have a working version of your physical product. You can successfully demonstrate the performance of core functions and working features as described in your campaign story. To be approved for the Prototype stage, you must embed a video or GIFs, and 3 or more photos showing a working prototype on the campaign page. The information provided on the campaign page must demonstrate the key features and functionality of the physical prototype. 3D renderings and digital mockups will not be accepted.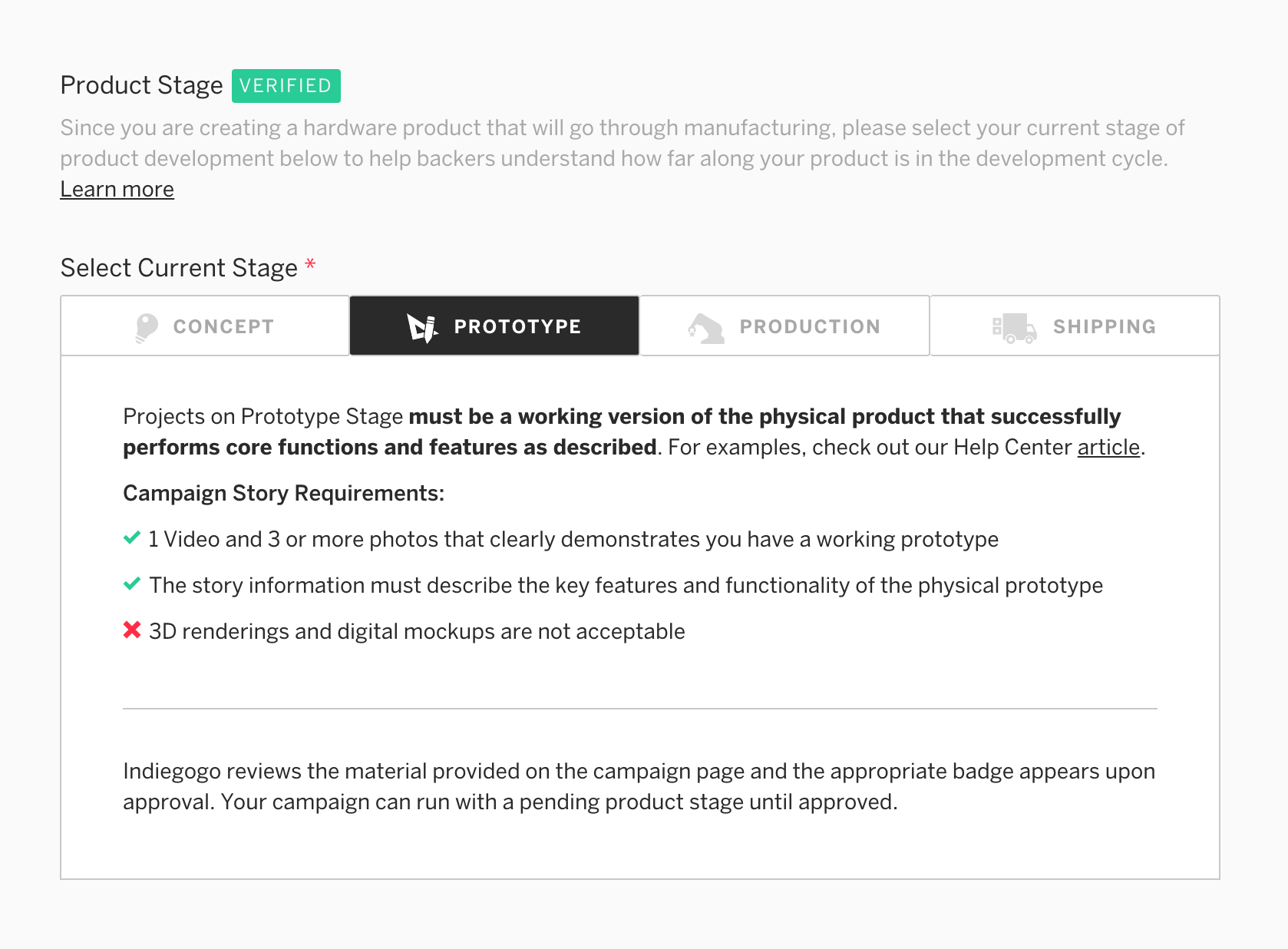 Production: You have begun the process of turning the prototype into a mass-produced product. In order to be approved for Production, you need to provide clear evidence that your product is being manufactured. Some ways to highlight your current stage of production include non-rendered photographic evidence of production runs, tooling, molds, manufactured components, or final inventory in the factory.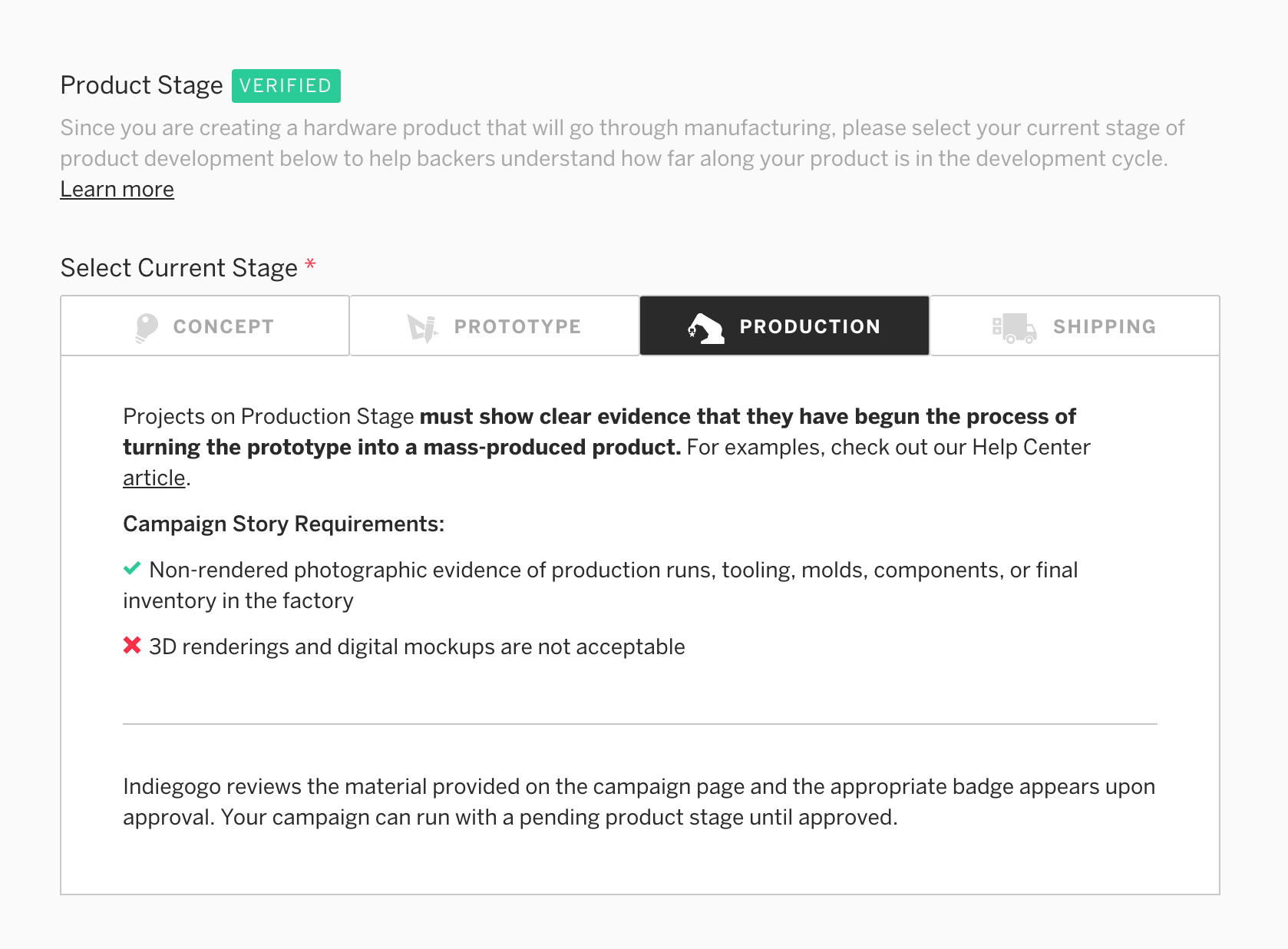 Shipping: You currently have the inventory to ship products to your backers, and have begun shipping. In order to be approved for Shipping, proof of visual preparation for shipping such as completed components or packaging is required. You must be able to provide proof that you can continue fulfilling perks to Indiegogo backers once you have started shipping, such as inventory available.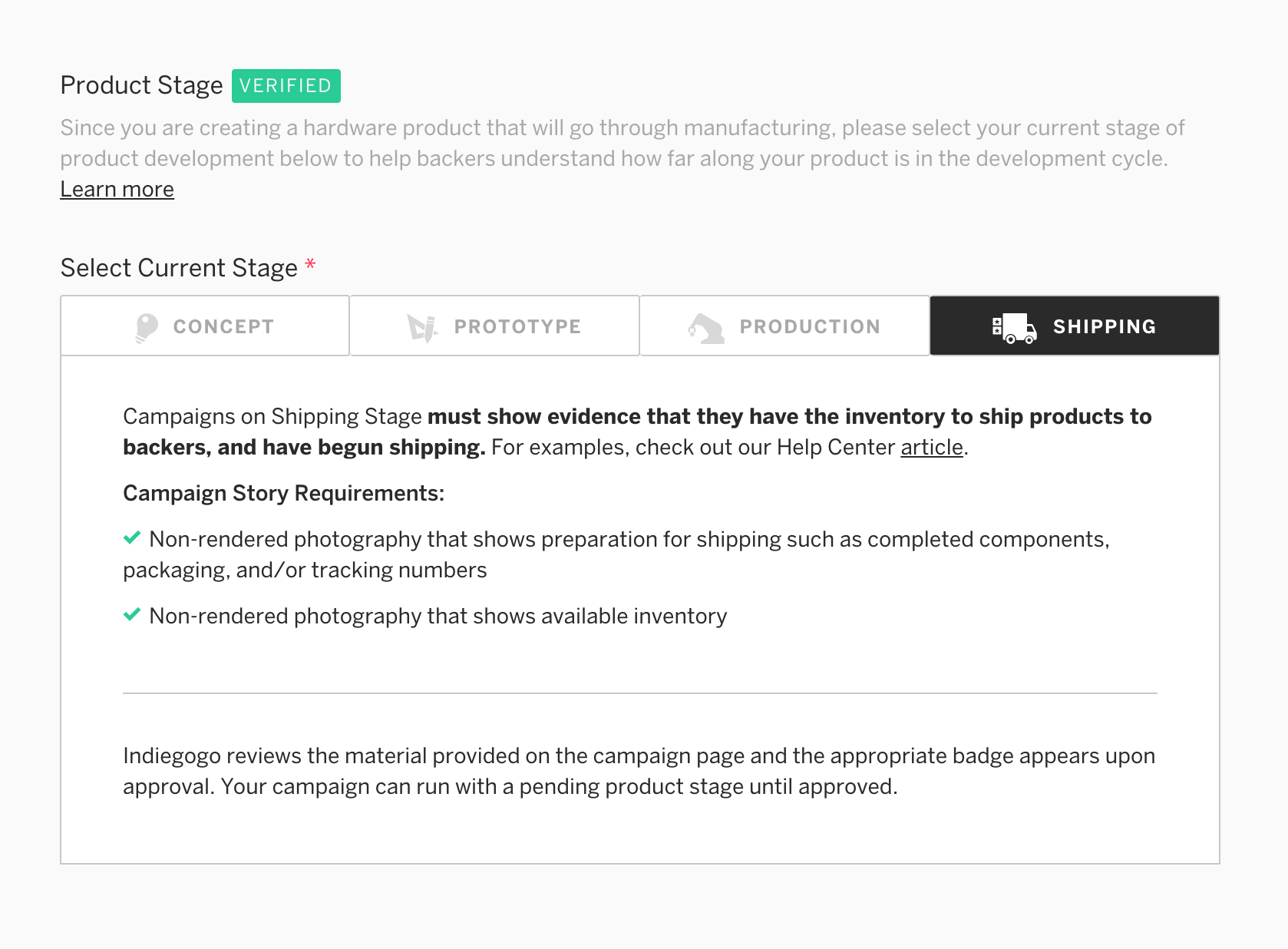 Where do I send information about my product?
You don't need to send information to us, but all information to support your chosen Product Stage needs to be visible on your campaign page, either in your story or Updates. We will be reviewing what we see public facing on your page, anything you send Indiegogo separately would not be considered as part of your review.
Does Indiegogo review the information I include?
Yes! Our Trust & Safety team looks over information for each and every campaign that selects a Product Stage after launch. Once our review is complete, you will see your Product Stage on your page.
Do I need a Product Stage approved in order to launch?
No. Our Trust & Safety team reviews Product Stages for live campaigns only. The review of any pending Product Stages does not delay the launch of your campaign.
What if I disagree with the assigned Product Stage?
If you were not approved for the Product Stage you chose, this likely means that the information on your campaign page is not sufficient to our guidelines. We will ask you via email to update your page with specific information. After making your changes, you may resubmit your campaign again for another review.
How do I see if my campaign has a specific Product Stage?
Your Product Stage will appear above the Overview section on your campaign page. Keep in mind it may take up to 5 business days after you select a Product Stage and publish your campaign for the Product Stage badge to appear on your campaign page. You'll receive an email as soon as the badge is added.