Great customer support can turn a contributor into an evangelist for your brand, but poor customer support can erode trust in your organization, generate negative press, and make it much harder to run a successful campaign. Here are some simple guidelines that will help you keep your customers happy.
Be Transparent and Communicate Regularly
Always be clear and honest with your contributors. Regular updates and public notices with plenty of details can help to build rapport and trust with your community. Even if the news is bad, contributors would rather hear it immediately than find out at the last minute. Avoiding questions or providing misinformation can immediately erode trust in your company and hurt your ability to raise funds.
It's your responsibility as the campaign owner to be open and honest with your supporters before, during, and after the campaign. Communicate clearly to them in a timely fashion so that your backers know that you are committed to completing your project and to appreciating their support. 
Set Up an Email Address Where Customers Can Reach You Directly
Make it easy for your backers and customers to get in touch with you! Be sure to include direct points of contact- your website, email address, phone number, and social media links. 
1. Add a customer service email address to the "Support Email Address" section on the "Team" tab of your Campaign Editor.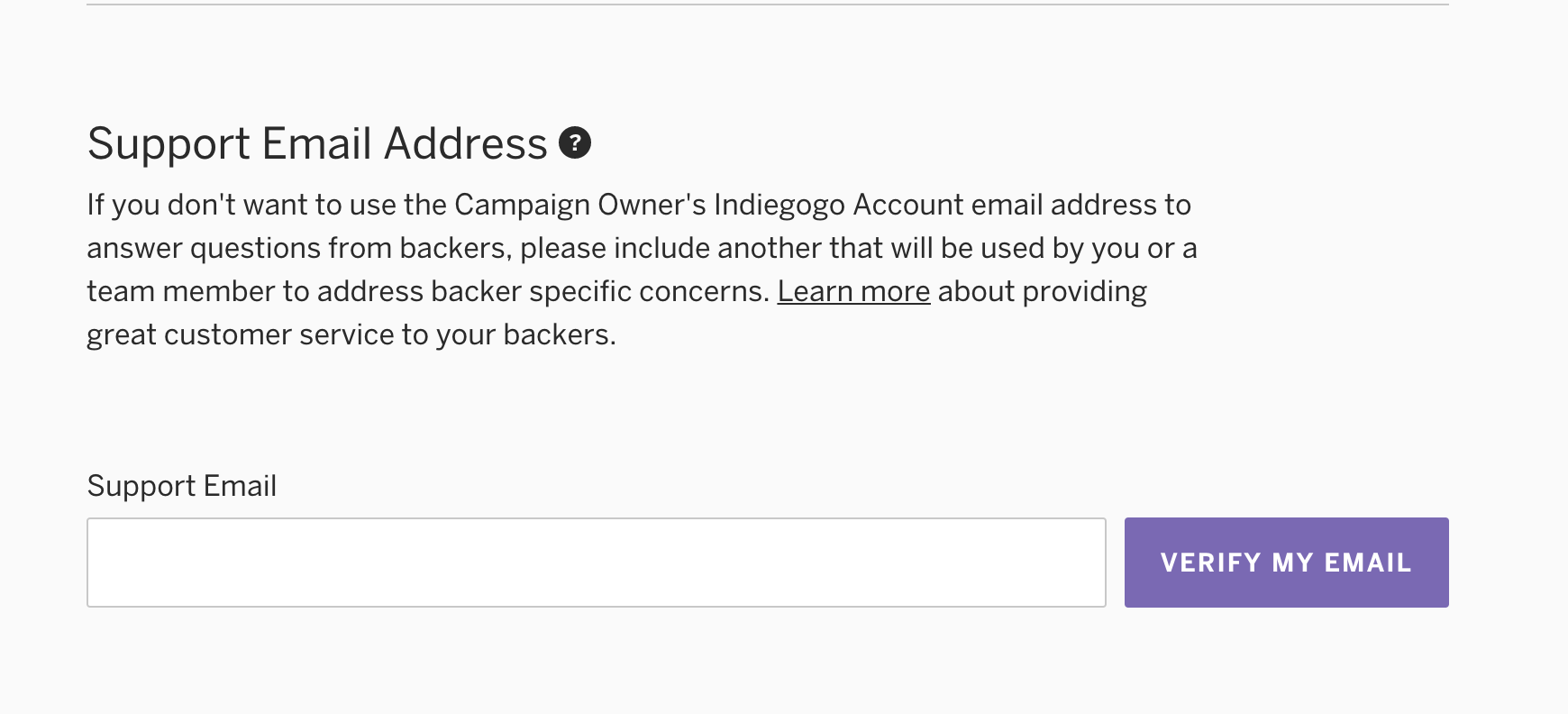 Once this email address is verified, all email notifications of new comments and direct messages from the 'Ask a Question' link on your campaign page will be sent to the Support Email Address. 
Note that ALL other emails will continue to be sent to the email address listed on the Campaigner's Indiegogo Profile. 
2. We also recommend that you post your customer service email address in an FAQ section on your Indiegogo campaign page, within your campaign story and in your updates. This will provide an avenue for people who are interested in your project, but are not yet backers, to send you any questions they may have before they contribute. 
3. We recommend setting up an account through a customer management system like Zendesk (their blog also has some great customer service tips). While you can try to mediate contributor relationships through Indiegogo, using one of these systems will help you to answer customer questions quickly and easily as your campaign scales. This also makes the transition to your own website much easier once your campaign is over.
Create a Dynamic FAQ Section on Your Campaign
An FAQ section will allow your backers to quickly locate answers to the most frequently asked questions- both before and after they make the contribution. Ensure you keep it updated and add to it if you or your team notice new questions being asked often.
An FAQ section is also great for the campaign team because it will hopefully reduce the need for you to repeatedly answer these kinds of questions. This will free you up to answer more nuanced/individual case questions as needed, and to work on other things (as you know, there's always a million things to handle when working on a new project or product.)
Commit to a Response Time
Use your campaign to tell people how quickly you'll respond to their questions. Committing to a response time will show people that you're trustworthy, and people will be more willing to wait for an answer if they know when to expect it. If during your campaign you're not able to meet your response time, plan on bringing on extra help (friends or hire temps) to manage incoming requests.
Set a Tone for Your Support Emails
While your campaign will set a feel for your brand, any customer who reaches out to you will judge you by your direct correspondence. Decide on a tone and some guiding principles for how these emails will sound. This will be especially important as you grow and begin to add in employees or temps who are unfamiliar with your brand identity and tone.
Include Your Refund Policy in Your Campaign
Refunds are rarely a problem for campaigns, however it's good to be clear about your policies from the beginning so you can set clear customer expectations. 
Campaigners and backers will be able to issue refunds through Indiegogo, provided the transaction falls within our refund policy. However, you should think through your refund offerings for transactions that fall outside of Indiegogo's refund policy. You can choose to offer customers refunds through a third party if you like. We've seen many campaign owners choose to offer these because it builds up a loyal customer base.
No matter what you decide for your policy, be sure to include a detailed description of your refund policy in the FAQ section of your campaign. This will help ensure both you and your Backers are on the same page with the policy, and what to expect. 
Related Resources: