Pre-Launch Pages are a great way for you to spread the word about your idea while you're working on your campaign. You can build up your email list by promoting your pre-launch page within your community and get them excited about your upcoming campaign launch – people love to be the first to know!
A Pre-Launch Page is a landing page you can use to start promoting your campaign before it goes live. Your early supporters and other interested potential backers who signed up on your Pre-launch page will get an automated email notification when your campaign goes live.
How do I create a Pre-Launch Page?
It's easy to get started creating a Pre-Launch Page for your draft campaign. Just follow these simple steps:
Log in to your Indiegogo account and click your name in the top right corner of the page
Select 'My Campaigns' from the drop-down menu
Locate the campaign you'd like to edit and select 'Edit campaign' from the 'Actions' drop-down
Once on the Campaign Editor, click Pre-Launch Page, on the left sidebar menu
Click 'Start Draft' to get started!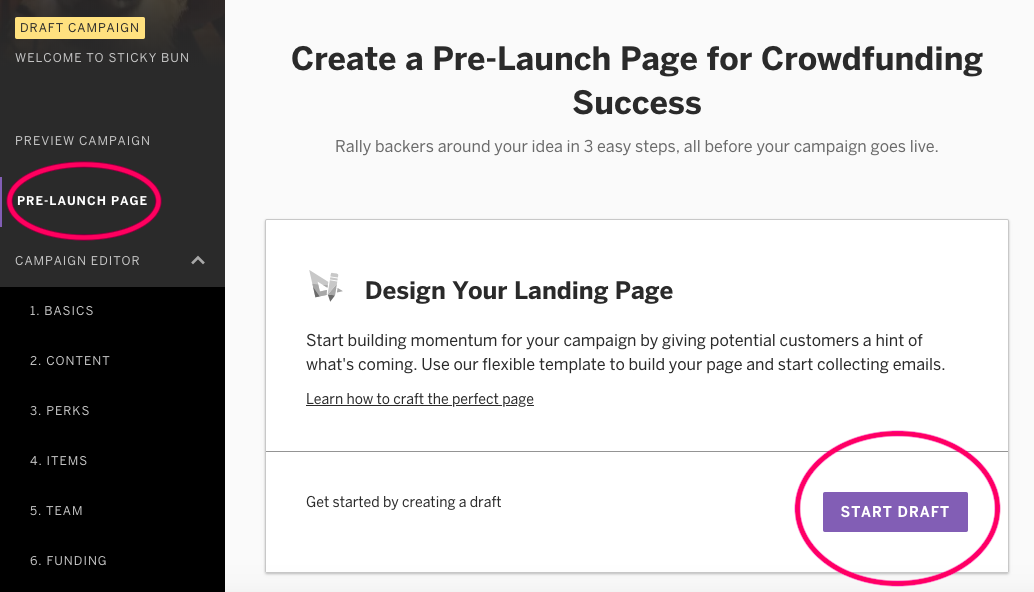 What fields are required?
You can navigate through the different sections to add your content, images, and videos.
The fields in the section titled "Header Image and Sign Up Form" that are marked with a red asterisk are required. You also have the option to select which sections to feature, such as "Introduction," "Project Feature," and so on.
To manage which sections appear on your Pre-Launch Page, check the box marked 'Visible' to enable it and uncheck it to remove it. When you're ready, you can select 'Publish' in the upper right hand corner of your draft to take your Pre-Launch Page live!
A few things to remember:
Your Pre-Launch Page will NOT save automatically so be sure to periodically click the 'Save' button in the upper right hand corner of your draft
When your Pre-Launch Page is in Draft mode it is not viewable to the public
My Pre-Launch Page is live. Now what?
Now that your Pre-Launch page is live, share it! The Pre-Launch Page is there to help your community get excited about what's to come.
For tips on sharing your Pre-Launch Page checkout our Education Center.
What's my Pre-Launch Page's URL?
Your Pre-Launch Page's URL is determined by your campaign title. For example, if the title is "My Campaign Title," the URL you see in your address bar is: www.indiegogo.com/projects/my-campaign-title/coming_soon If you change your title, the URL will also change.
Can people search for my Pre-Launch Page?
Your Pre-Launch page is searchable by title, as long as it has a Pre-Launch Page Card image and you've selected a category on your campaign draft. You can choose a category in your campaign's 'Basics' tab.
Where do people sign up for my email list?
Visitors to your Pre-Launch Page will see a box to sign up for your email list. You customize the text for the sign up box. Be creative in how you encourage people to subscribe. You can even offer a special discount, like in this example: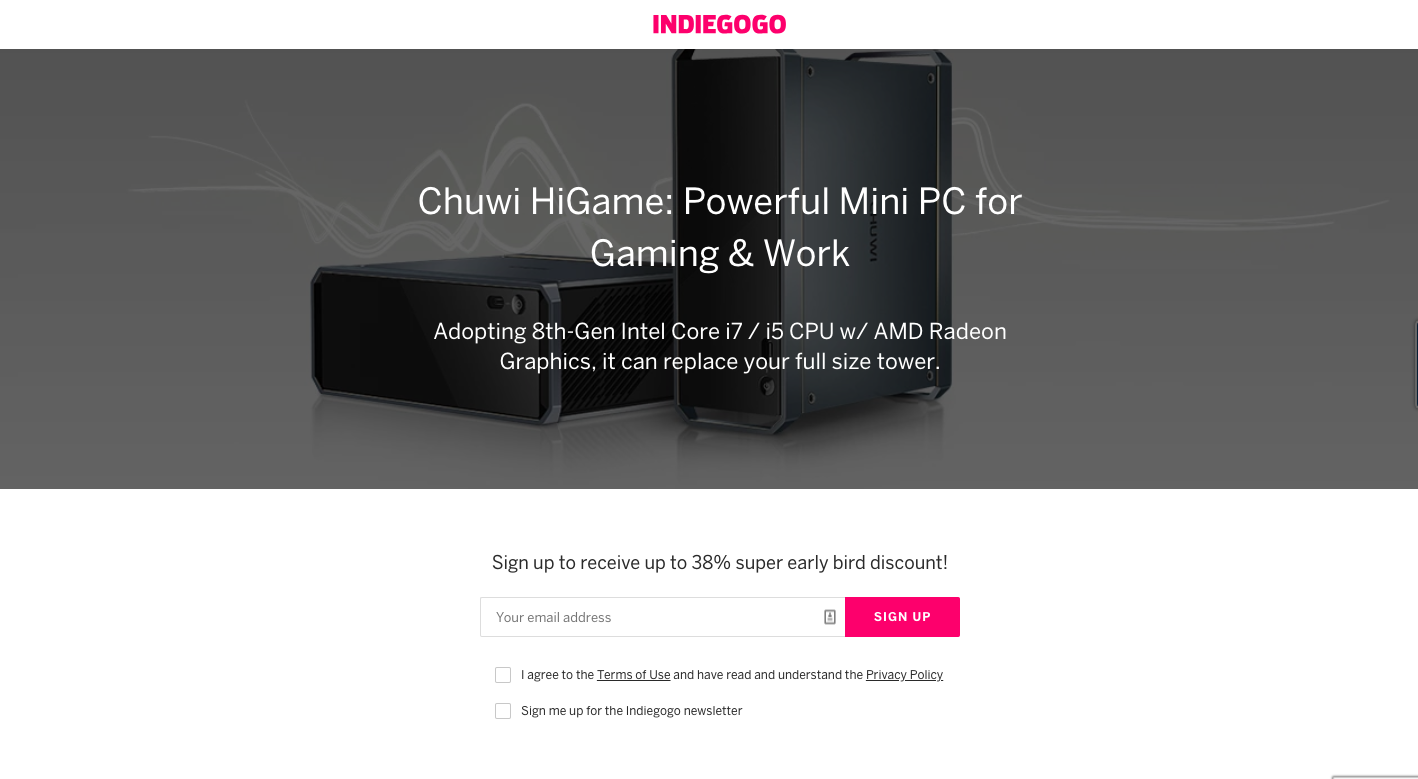 You can download a CSV of all your subscribers and update them on your campaign's progress or let them know you've set a launch date.
To download a copy of your Pre-Launch Page's CSV, agree to our Terms, and select download on the right hand side of your Pre-Launch Page editor:

What happens when I launch my campaign?
When you launch your campaign your Pre-Launch Page will automatically redirect to your live campaign page.
Can I view the activity on my Pre-Launch page?
Your Pre-Launch Page is equipped with an activity section that allows you to analyze your page's performance to understand the actions your audience is taking. You can see the the number of visitors to your Pre-Launch Page and the number of sign ups by day.
Please note that in order for data to populate on your activity dashboard, you must receive at least 10 daily visitors.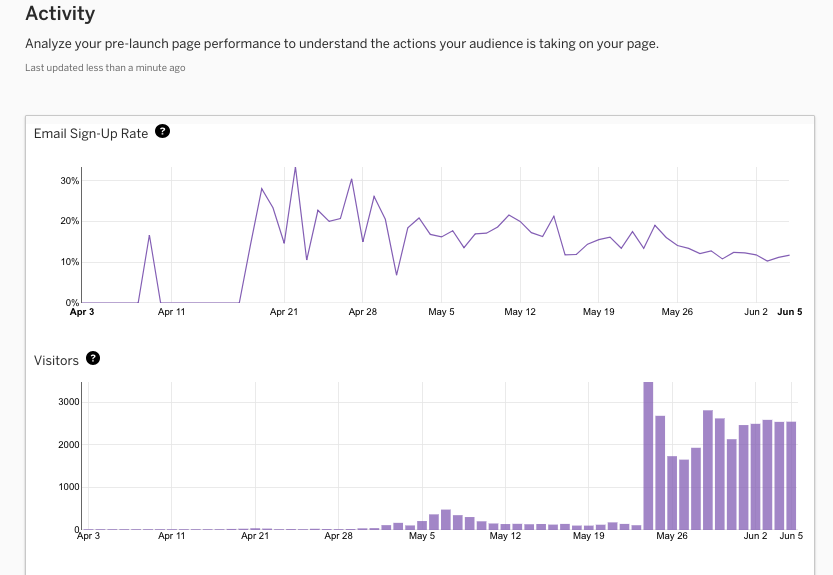 Can I add a Facebook tracking pixel?
You are welcome to use your Facebook pixel for your Pre-Launch Page. For additional details on using your Facebook pixel, check out our Help Center article.
Can I test different versions of my Pre-Launch Page?
Yes! You can try out variations of your page using the A/B Test feature.
What is A/B Testing?
A/B testing compares two versions of a web page to see which one performs better. You compare two different web pages by showing one variant (let's call it A) to some visitors, and a different variant (let's call it B) to other visitors.
With Pre-Launch Page A/B testing, you can create two different Pre-Launch Pages. So when your someone visits your Pre-Launch page, they will randomly see either Variant A or Variant B of your page. Both your variants will have the same URL. We'll take care of dividing your traffic between your two variants on our end.
You'll be able to test different images, text, and layouts to get a feel for what resonates with your community, and the performance of your two different Pre-Launch Pages will be reflected in the Activity section.
How do I create a variant?
You'll be able to create a second Pre-Launch Page after you've started your first page. You can select 'Duplicate Original,' to get started.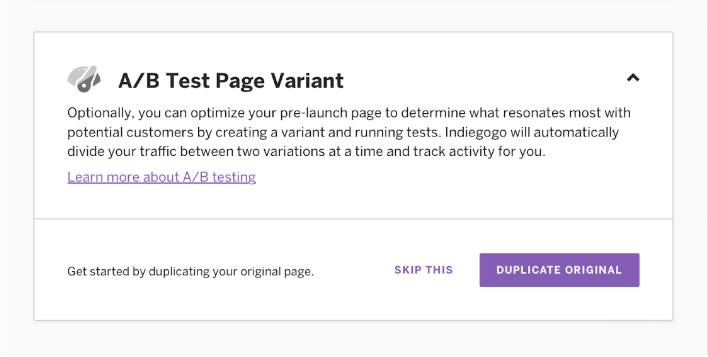 Keep in mind that A/B testing is completely optional; it is not required to launch your Pre-Launch Page. For some campaign owners, having one Pre-Launch Page may be a better strategy.