Common Connect Onboarding Issues
Identity verification for the Funds Recipient

Residence verification for the Funds Recipient, if filed as an Individual

Business registration for the Company, if filed as Business/Non-Profit
Identity Verification for Funds Recipient
Below are the ID document requirements that must be followed in order to successfully upload your ID:
Submit

both sides

of the ID (if not a passport)

Ensure that the

name on your document matches the name provided on the ID form

Photo needs to be clear

, non-blurry, no glare, all edges included, nothing blocked, etc.

Photo needs to be

in color

Photo needs to be

under 5MB in size

Photo needs to be

under 8000 pixels

on any dimension (width or height)

Photo needs to be in

.png or .jpg format

Document needs to be

large enough to read

Document

cannot be expired
Another common verification issue is a name mismatch. Be sure that you input your legal name, not a nickname. See examples below of what NOT to do:
Example 1: Government ID displays name as '

Allison Smith

'. They have provided '

Allie Smith

' in the verification process.

Example 2: Government ID displays name as '

Robert Johnson

'. They have provided '

Rob Johnson

' in the verification process.
Residence verification for the Funds Recipient, if filed as an Individual
1. To file as an individual, be sure to select 'Individual' when launching the campaign. This cannot be changed once you have made your selection.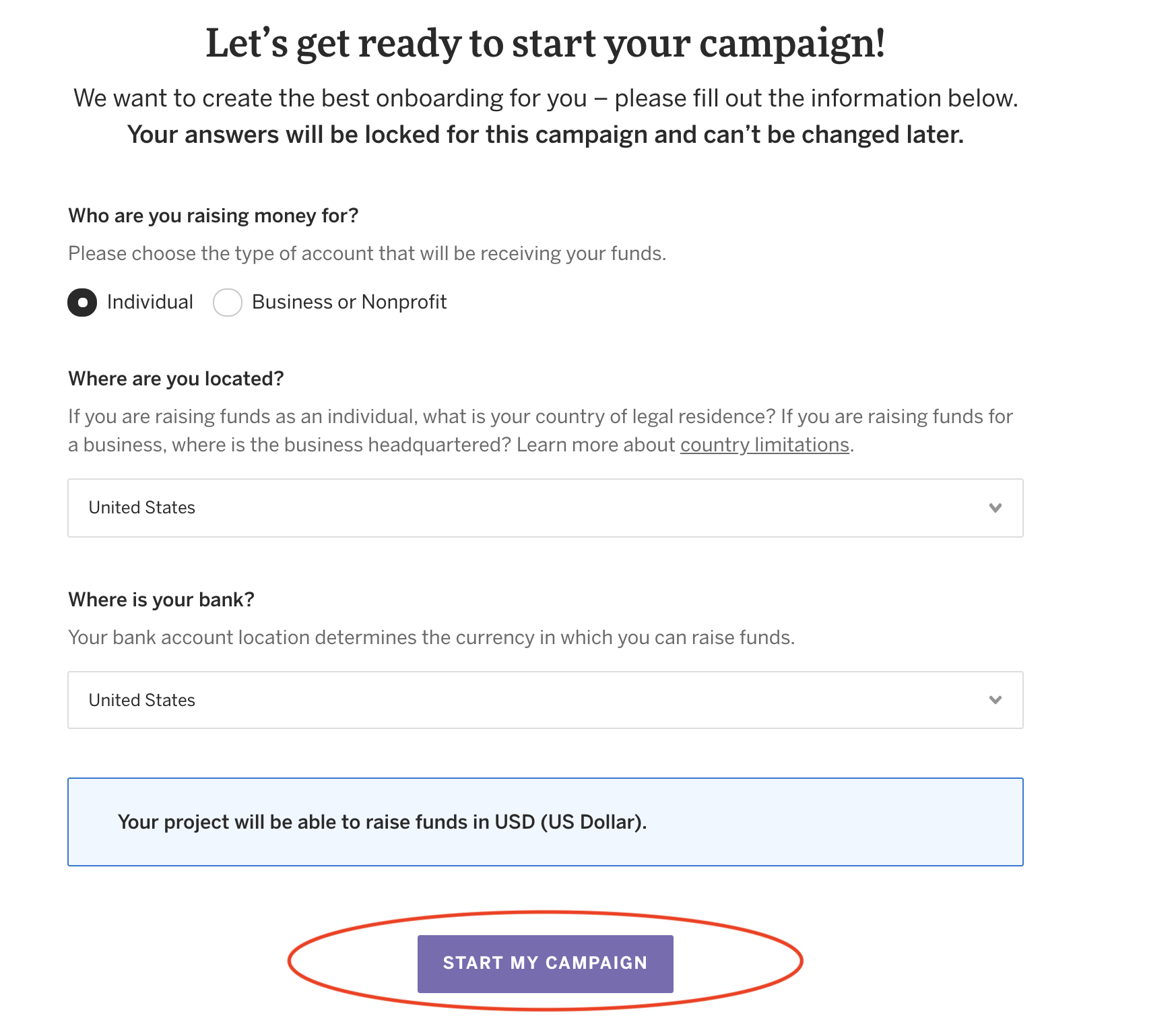 2. Go through the Connect Onboarding process by going to Campaign Editor > Funding tab > 'Verify Your ID' button: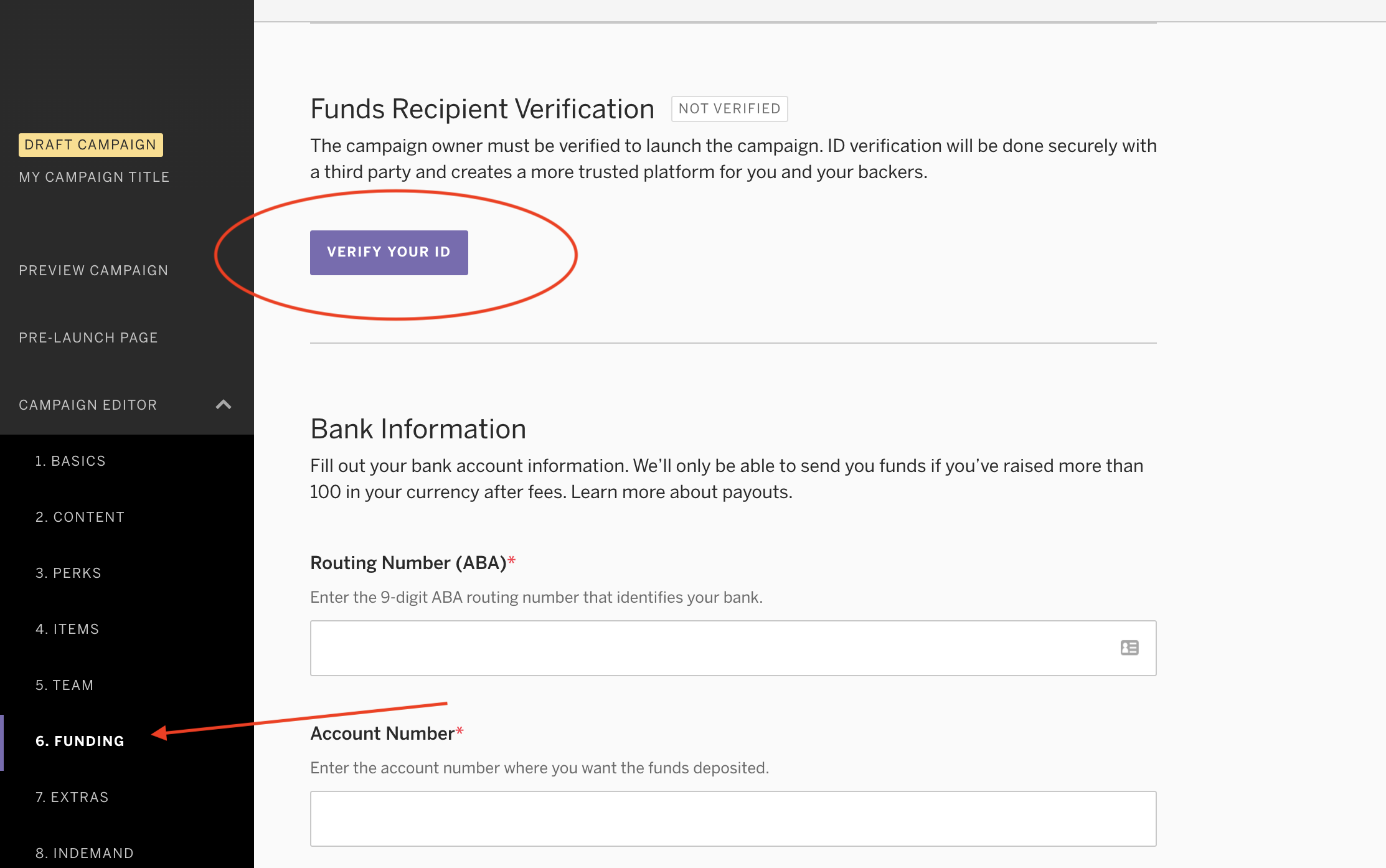 3. Once you select the button you will be greeted by a landing page to verify your business. Select the purple 'Get Started' button at the bottom right of the box: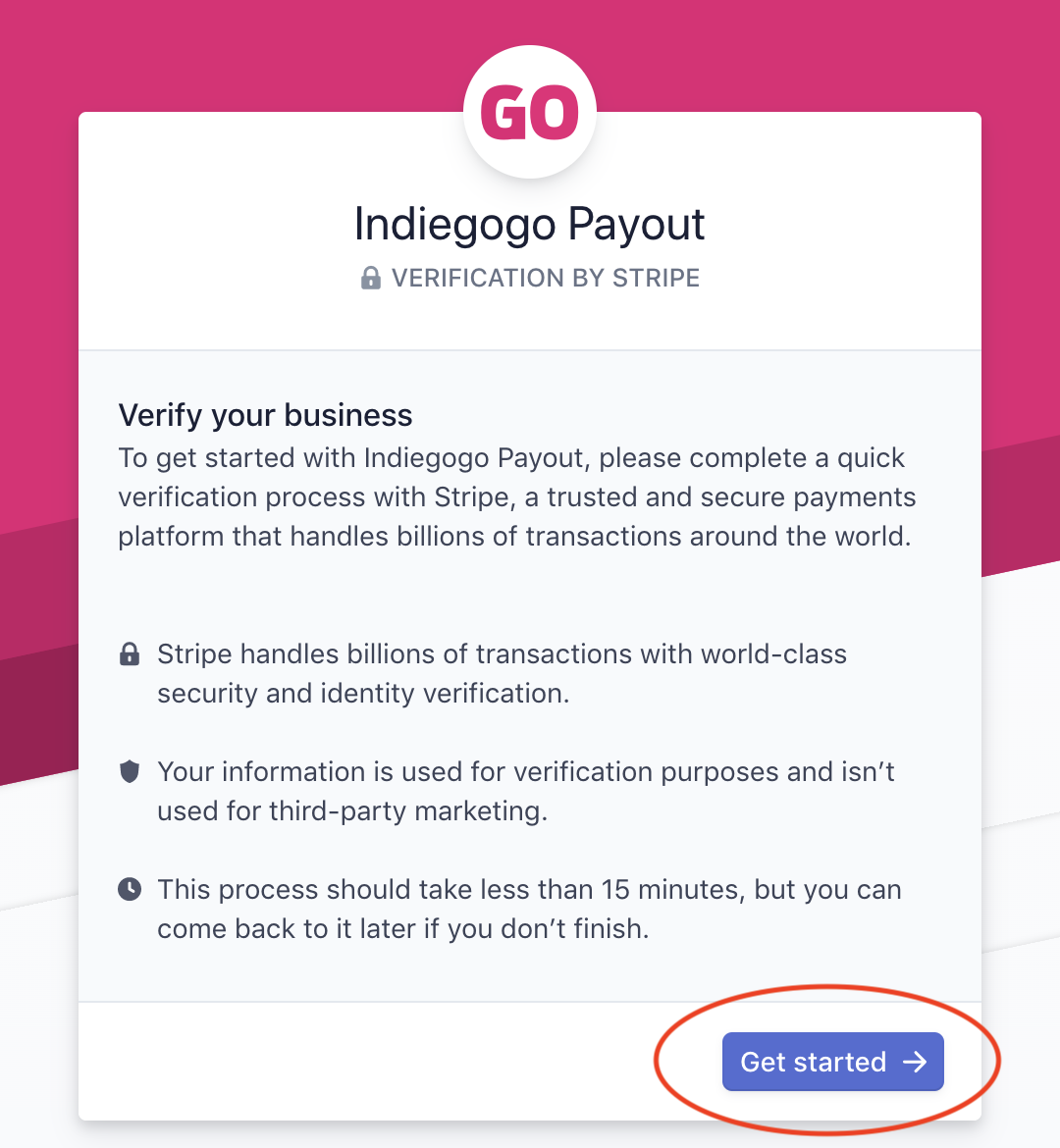 You'll be brought to the following page to fill out the requested information: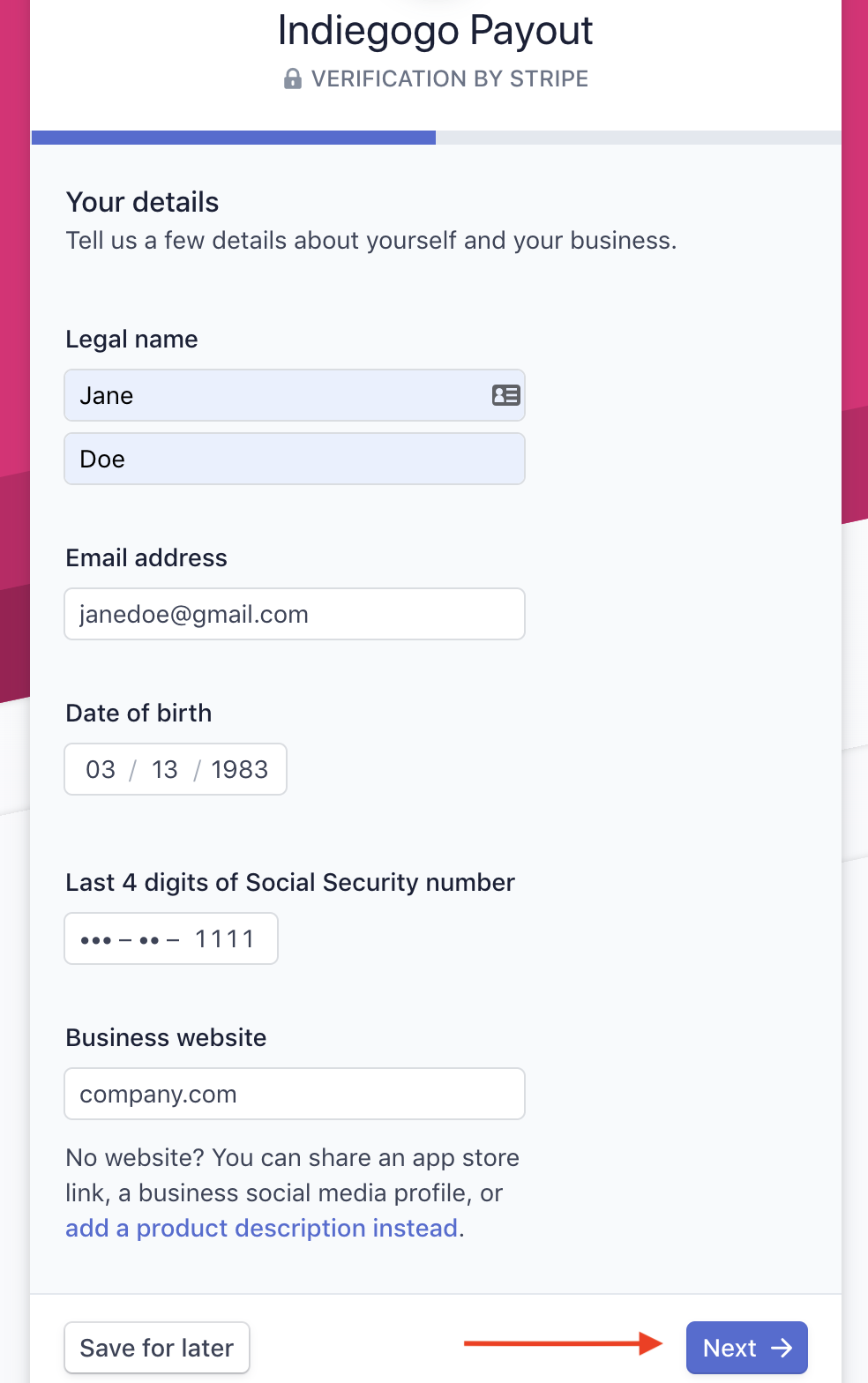 4. Stripe will make the request for the missing verification items at the outset, so you will be able to see exactly what you need to upload (see example screenshot below):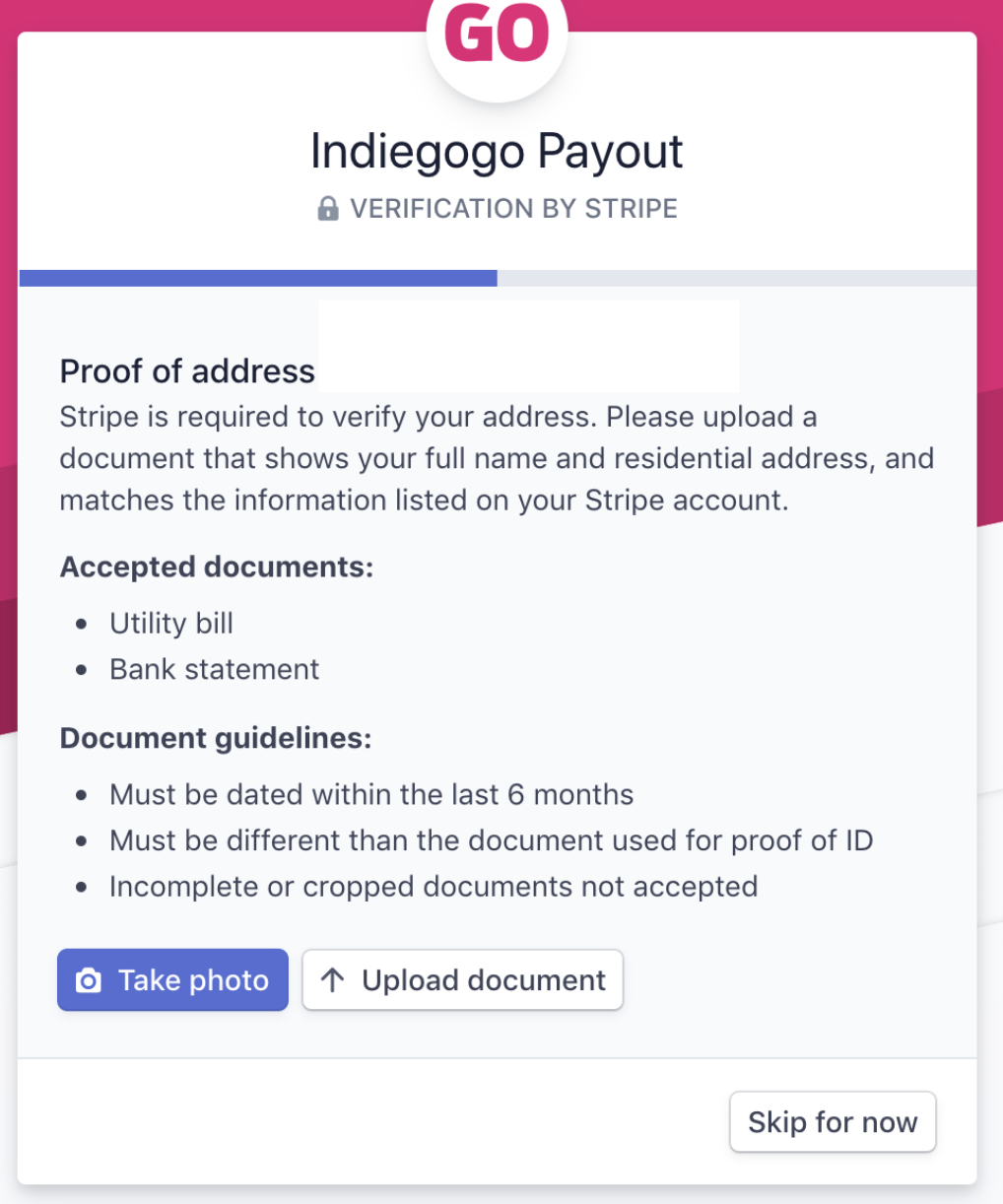 5. If you are still unsure that is the issue, you can select the 'Skip for now' option to move forward.
6. The following page will populate, showing that additional information from the Account representative is required.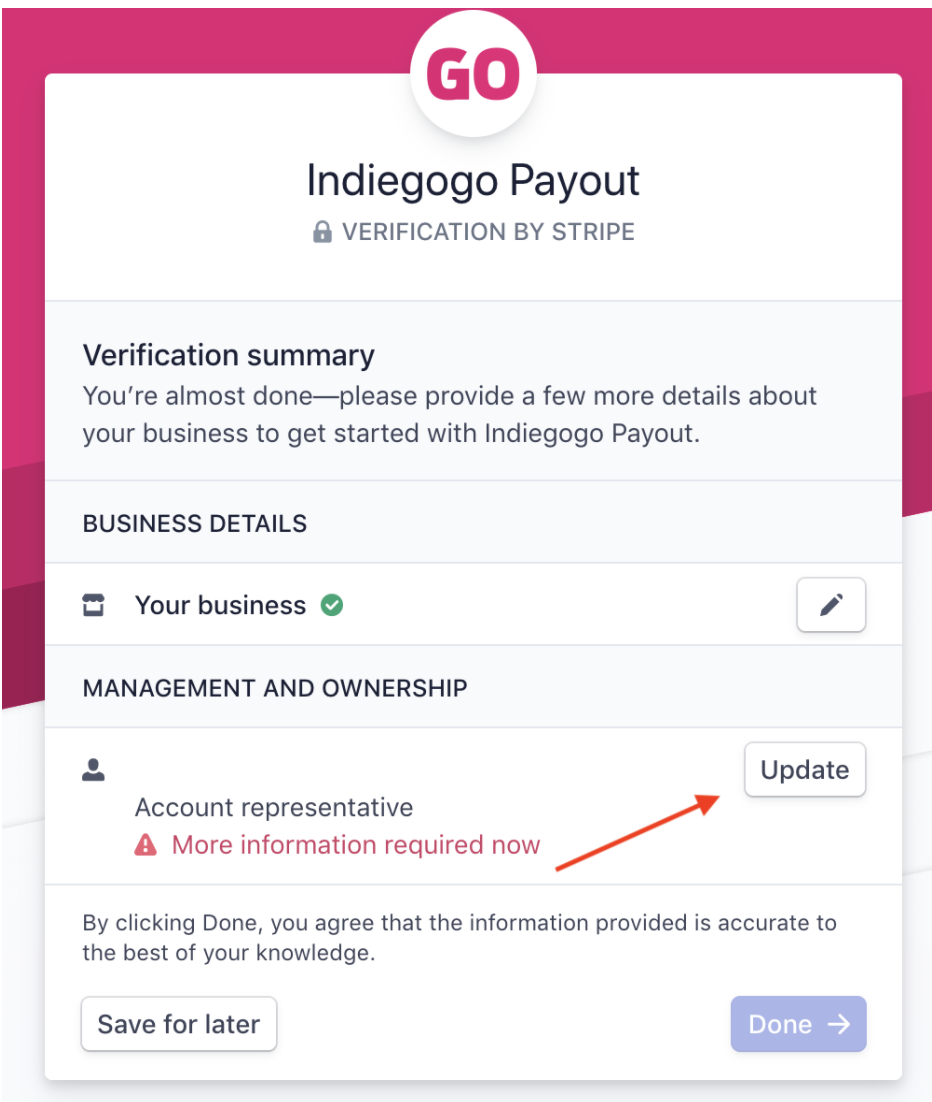 7. Select the 'Update' button and a page confirming the issue that is preventing Stripe Connect will be displayed.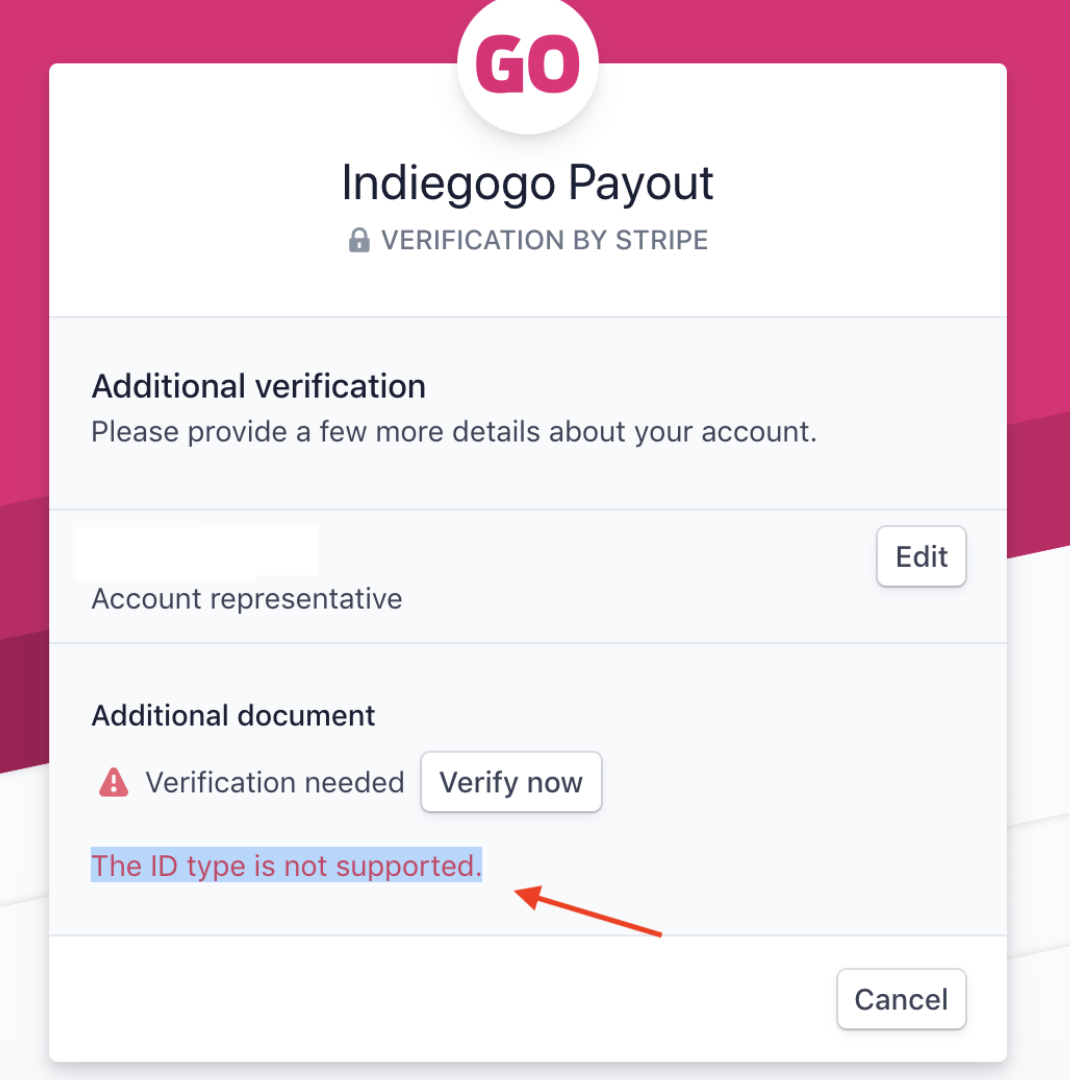 Proof of Residence Documentation
The Proof of Residence document for Individual Campaigns needs to be one of the following accepted document types AND:
Must be

dated within the last 6 months

Must be

different than the document used for proof of ID

Incomplete or cropped documents not accepted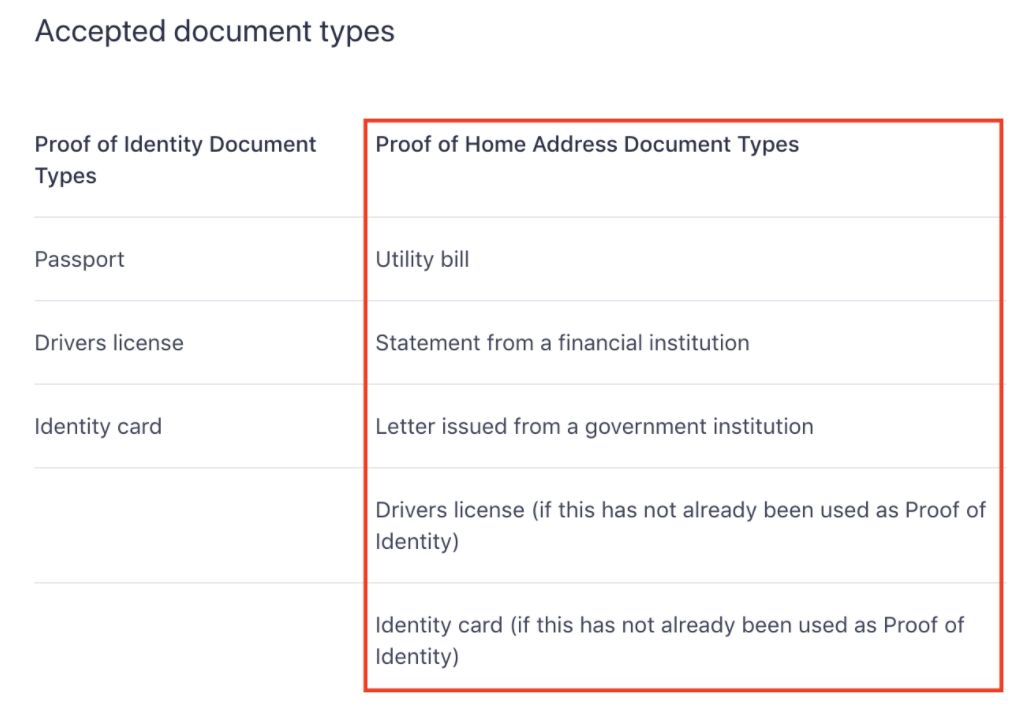 Business Registration Verification
For businesses, make sure to write your company name EXACTLY as you have it written in official registration documents.
For Non-U.S. Businesses you can find a list of the documents you will need to submit here.
For U.S. Businesses, see this link Using IRS documentation as reference when entering business name and tax ID number (TIN) for US-based businesses
For U.S. businesses, Campaign Owners can reference their LTR 147c OR SS-4 confirmation letter from the IRS. These documents will confirm the EIN the IRS issued for the business.
If you are set up as a Sole Proprietorship this means that you are using your Social Security Number (SSN) as the business EIN. That is why you will see a note that states: "If you use your Social Security number for business tax purposes, you can enter that instead."