Indiegogo offers the ability to track traffic sources by creating unique URLs that you can hand out to the world. This allows you to create multiple referral links that are all assigned to the same Indiegogo account. Your Indiegogo referral dashboard will show the sources segmented out by each unique URL.
How to create your custom URL
Creating a referral tracking URL is easy! The first things that you'll need are your Indiegogo account ID and your campaign slug. You can find them by logging in to Indiegogo, going to your campaign's page and copying them from the URL in your browser's address bar. It should look something like this:

In the example above, the area highlighted in green is your campaigns slug, while the yellow bit is your basic referral code created from your Indiegogo account ID. You'll only need the numbers portion of the URL highlighted in yellow!
Once you have your account ID and campaign slug you're ready to start creating custom tracking codes for your referral URLs. Let's start with the basic portion of the URL. Going off of the example above, the base URL will be everything to the left of the campaign slug. So we're starting off with:
https://www.indiegogo.com/projects/shanes-board-game/
Next we'll add a bit of code that tells us that it's a referral link. That code is reft and it is added to the end of your base campaign URL after the forward slash. You should now have something that looks like this:
https://www.indiegogo.com/projects/shanes-board-game/reft/
Awesome, we're almost done! Now we need to add in your account ID so that we know who to attribute the referral to. This is going to go on the end after the reft code. So it looks like this now:
https://www.indiegogo.com/projects/shanes-board-game/reft/9140189/
Now that we've got all that out of the way, we can get to the part that really makes this work - the referral code. The referral code and be whatever you'd like but we recommend keeping it short and descriptive. For example, if this is a link you're going to use to track Facebook referrals, you could use the code fb-ref. If you're running multiple Facebook referral campaigns you could even split them up by creating two URLs with different codes, for example fb-01 and fb-02. Custom codes can be up to 20 characters and should contain only letters, numbers and dashes. Whatever code you end up using, add it to the very end of your URL so that it looks something like this:
https://www.indiegogo.com/projects/shanes-board-game/reft/9140189/fb-01

That's all you need to start tracking different referral sources using the same Indiegogo account!
How can I see the results of these referral URLs?
You can view all of your referral data by logging into Indiegogo and visiting your campaign. Click on the link at the top that says View Dashboard and click on the Campaign Insights tab. On that page, scroll down to the Referrers section and you will see data on all of the referrals related to your campaign. Any referrals that are linked to one of your custom referral URLs will show that URL's code in parenthesis next to the name.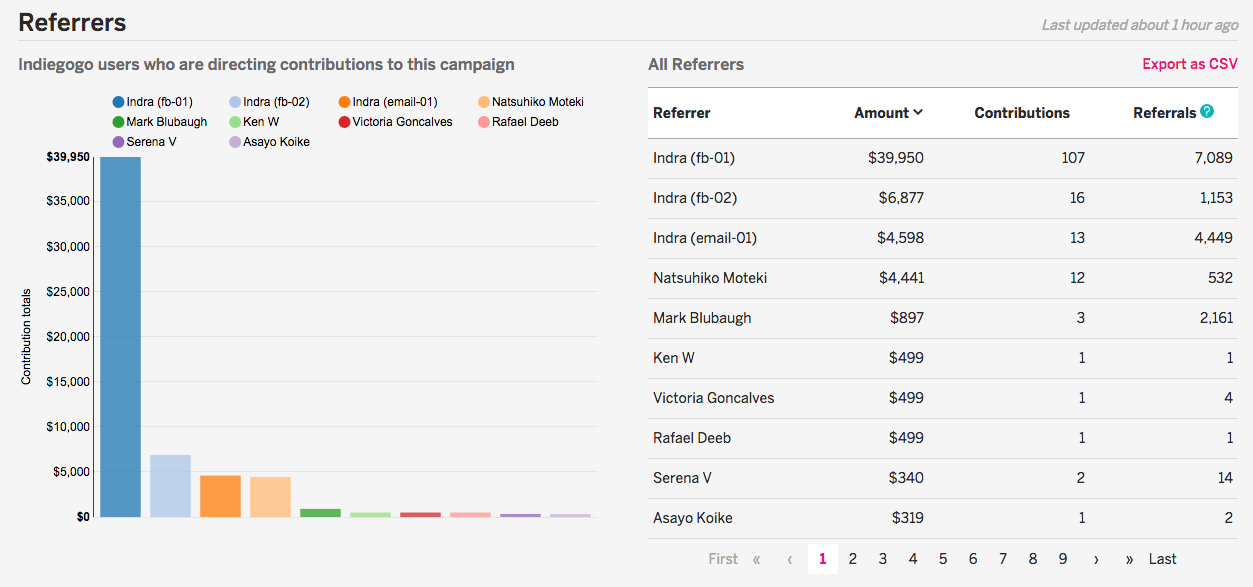 Is this the same thing as Google Analytics?
While this is similar to what can be done using Google Analytics UTM tracking, this feature is part of the Indiegogo platform and will allow you to view this data directly in your Indiegogo dashboard rather than a third party solution. We recommend that you choose the platform you are most comfortable with using but if you do decide to use both, keep in mind that the numbers you are looking at may not match up since different platforms often use different criteria for their results.
Notes:
Referrals are not immediately reflected on your Dashboard, but will be displayed within 24 hours. Please refer to the "Last Updated at" timestamp to see when the data was refreshed and newly displayed.

Note that the referral must immediately make a contribution after clicking on the Custom URL. If they visit other pages or websites, or leave and come back to the campaign later to contribute, their contribution will not be counted as a referral.

Referral only appear on the dashboard if an actual contribution resulted from a visit via the link.

For referrals that were visits only, but no contributions resulted from the visits, those will not be displayed on the dashboard chart. However, if you are interested in seeing this information, it is availably by simply clicking the "Export as CSV" button.