All campaigns must have a bank account in order to receive funds.
Important Things to Know About Bank Account Set Up: 
We recommend adding your bank and identity information on the day you launch your campaign. The bank form will be available to fill out via your Funding tab immediately after you launch the campaign. Stripe may require you to verify your identity soon after you launch, and will occasionally prevent new transactions from coming into your campaign before the identity information has been completed. We therefore recommend completing your bank form as soon as you've launched your campaign to avoid any interruption to your campaign's ability to receive contributions.
You have a maximum of 60 days from the date your campaign starts to complete your Secure Bank Form. If your bank information hasn't been completed within 60 days, all funds will be refunded to your backers. We will send regular emails to remind you to enter your bank account information during your campaign. 
 If you are raising money for someone else, we ask that you enter their bank account information or add them to your campaign team as an editor so they have access to enter their bank account information. This way we can ensure that the funds raised can be sent to them directly.
Indiegogo is not able to verify the accuracy of the bank information you provide. To ensure accuracy of the information you provide us, please

confirm the relevant details with your bank

, before entering your Bank account information into the Bank Form on your campaign.
Be sure to select the correct country option for both your bank country and where you legally reside when filling out the bank form. This field cannot be changed.
Once you select your funding type (Individual, Business, or Nonprofit) this field cannot be updated.
Where to Enter your Bank Information?
You will be able to provide your bank information on your campaign editor's Funding tab as soon as you launch your campaign. 
Login to your Indiegogo account and visit your campaign page
Click 'Campaign Editor' on the sidebar of your campaign page
Click the 'Funding' tab in the sidebar
Click on the 'Secure Bank Form'
Provide information about your bank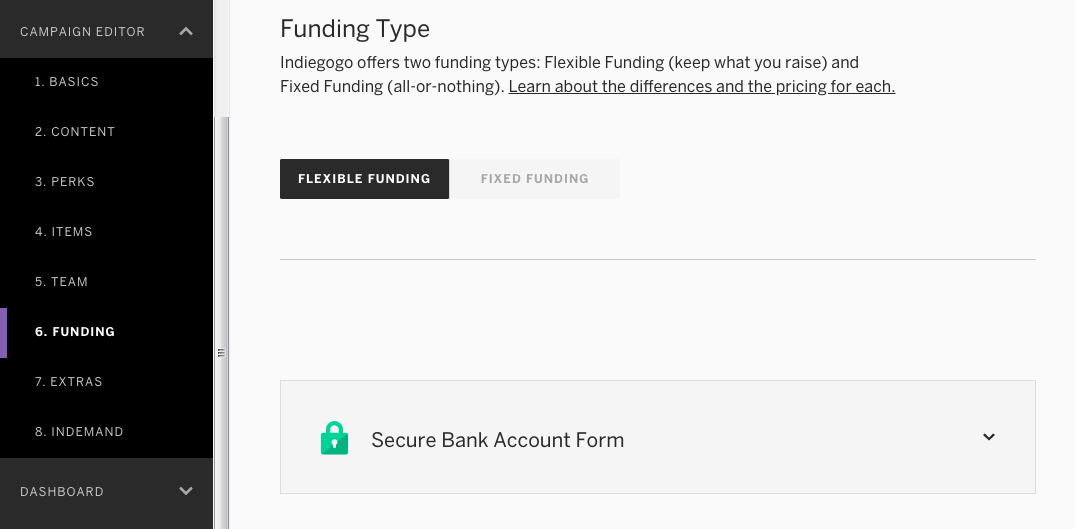 What Type of Bank Account Can I Use?
You can use a personal or business checking account.
Important notes: 
Please ensure you discuss receiving funds from Indiegogo with your bank to ensure your account is set up to receive them. Indiegogo is not responsible for customers' inability to receive funds due to limitations in place by their bank.
Indiegogo is not able to disburse funds to virtual bank accounts or third-party money sending services such as PayPal, Payoneer, Venmo etc.
What Bank Account Information Do I Need to Provide?
If your campaign is raising funds in USD ($), the bank information you need to provide depends on your currency and bank account country.
United States:
Fund Recipient's Name (Not a business name)
Fund Recipient's Date of Birth
Fund Recipient's SSN
Address
Account Number
Routing Number
(If applicable) Business Name
(If applicable) Business EIN
Non-U.S.:
Country
Name on Account (Bank Account Name)

Enter the legal name of an individual, not a business name

SWIFT/BIC

Make sure to enter your SWIFT/BIC in all capital letters

Account number/IBAN
Account Address
Bank Name
Bank City
Transit Code/BSB (if applicable)
Intermediary fields (if applicable)
Phone number
Mexico*:
Please list your

18 digit CLABE # in the 'Account Number or IBAN' field

If you are using a bank account located in Mexico, please enter your 18 digit CLABE number in the 'Account Number or IBAN' field. If you have any questions about this, please reach out to our support team with your bank's wire instructions
India*:
Check with your bank if you need Remittance code

Please see our article here
Israel*:
When entering your SWIFT code, remove the "XXX" on end (ex: enter LUMIILIT not LUMIILITXXX)
Colombia*:
Tell your bank ahead of time about any incoming transfers from US. Colombian banks often hold funds if they aren't expecting you to get a cross-border transfer
China/Hong Kong*:
There is a 35 character limit on the Beneficiary Name field

Check with your bank if they will accept partial match. Otherwise, contact our support team
Account Number / IBAN
Your bank account number is at the bottom of a check. Alternatively, it can usually be found on your paper bank statements. For bank accounts in some locations, you will be required to provide an IBAN, or International Bank Account Number. The IBAN is the same as your bank account number, but with a few extra numbers at the beginning. Please contact your bank if you need help with your account number and/or IBAN.
We will ask you to enter your bank account number twice, to help catch any errors.
Routing Number (or ABA)
Your electronic routing number is a 9-digit code that identifies your bank. Please note, we require your electronic routing number, not your paper or wire routing number. Your routing number must start with two digits in the following range:
00 - 12, 21- 32, 61 - 72, 80
We will not be able to disburse funds if the first two digits of your routing number do not fall within that range. If you are unsure of which routing number to use, please contact your bank. You can usually find your routing number on the bottom of a check.

SWIFT Code*
A SWIFT code (or BIC in Canada) is an 8- or 11-digit alphanumeric code that is used to identify a bank in an international wire transfer. Make sure you enter your SWIFT code in all capital letters. If you're not sure of your SWIFT code, call your bank. Every bank has one!
If your SWIFT code ends in -XXX, please remove these last three characters when you save your bank information on your Funding tab.
Transit Code (Canada only)*
If you're raising funds in USD to be sent to a Canadian bank account, you must enter a Transit Code. Transit Codes are required for bank accounts in Canada and can be entered in the format XXXXYYYYY, where XXXX is the Institution Number, and YYYYY is the Branch Number. If you don't know your bank's Transit code, contact them directly.
*Only applicable for campaigns that launched before August 12th, 2019.